The All-Teacher Team Tackling The 2018 Boston Marathon
Natalie Zimmerman is one of 17 educators who will be running on Hyland's All-Teacher Boston Marathon team.
Heading out the door? Read this article on the new Outside+ app available now on iOS devices for members! Download the app.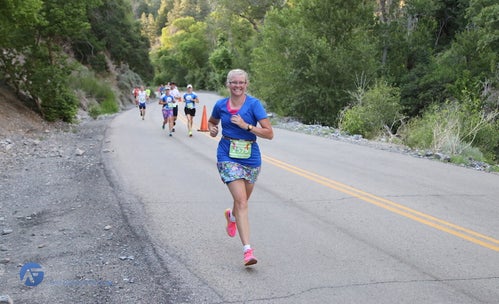 17 Teachers, 1 Boston Marathon
When Natalie Zimmerman toes the starting line of the Boston Marathon on Monday morning, she'll be representing educators across the country who fit running into their schedules around their work teaching the next generation, one of the most difficult and rewarding jobs there is. Zimmerman, who was at an early age inspired by watching Joan Benoit Samuelson win the very first Olympic women's marathon in 1984, has participated in more than 500 races over the years but has never before run the Boston Marathon.
"The marathon has been the pie in the sky dream since I was a teenager," Zimmerman said. "It's the biggest running celebration."
Zimmerman's opportunity to run the Boston Marathon this year is tied to the theme of the 2018 race, the "Year of Service." In recognition of this theme, Hyland's, the "official cramp sponsor" of the Boston Marathon, invited teachers to apply for the chance to run on its all-teacher team. Zimmerman was one of more than 1,600 teachers who applied, 17 of whom will run on Monday.
"Being part of the team before and after the race, and being part of the online sharing of training [before the race], even if I don't have someone to run with, I feel like I'm part of something special," Zimmerman said.

Over the last several weeks, Zimmerman has been stopped in the hallways of the Lavale, Md. school at which she teaches math by students, all of whom ask about her training and preparation for Boston. The reason every single one of them knows she's running the Boston Marathon is because their principal told them—at a last-minute event thrown together in the school gym in celebration of Hyland's all-teacher team member announcement. It's those hallway moments and pre-race online interactions with her newfound friends and teammates that makes this already special race even more so for Zimmerman.
"I'm always giving the same speeches you give yourself to get out the door," Zimmerman said of her role as a teacher. "You can't expect a good ACT score if you don't put in the work every day in class. It's a constant building; you don't just decide to run a marathon and expect to do well. It's constant practice."
Best of luck to Zimmerman and the other members of Hyland's All-Teacher Team on Monday!
Related:
This Father-Daughter Team Is Tackling Boston–Together
What To Expect From The Boston Marathon's Infamous Newton Hills