5 Tips To Successfully Run A 5K With Kids In Tow
If you are a runner, the children in your life will often want to be runners, too.
Heading out the door? Read this article on the new Outside+ app available now on iOS devices for members! Download the app.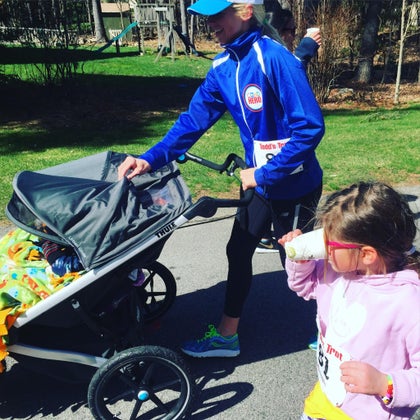 Chances are if you're a runner the little people in your life want to be a runner, too. Whether it is your own children or the child of friends and family, they are watching you and probably want to run and race just like you. Involving your kids in your running can at times be challenging, but can also hold great reward. Here are a few tips for a successful 5K experience with the little ones in your life:
1. Gauge Your Child's Ability Honestly (but be ready to be surprised).
If you want to run/walk as a family you need to gauge your child's ability honestly. Push them to do what is beyond their capacity and they will wind up in tears and the experience won't be fun. If your child frequently walks or runs more than a mile then opting for the 5K instead of the kids' fun run might be a good option. Bring the stroller as a back-up, or choose a 5K with a course that loops back towards the finish at the halfway point in case you have to bow out of the race early. At the same time, you don't want to underestimate their ability. Take a step back and allow them space to test their capabilities. You just might be surprised.
2. Don't Overdo The Encouragement.
Kids are smart and observant; they know when you're saying "great job" or "you're doing awesome" just for the sake of saying it. Empty praise can be frustrating and discouraging. Instead of encouraging through praise, try to point out their accomplishments and let them feel the satisfaction of a job well done. For example after getting to the top of a hill say, "Turn around! Look at that! You just came up that hill! How does that feel?" If it's a big deal to them, make it a big deal. If not, keep moving forward and look for the next opportunity when they seem pleased with themselves and their effort.
3. Set Mini-Goals: Setting small goals along a 5k course can help a child finish. For example, "Let's walk to that mailbox and then run to the next." Let your child pick some of the landmarks or people ahead who they want to catch. And remember to be honest about the distance they have left to run, don't tell them "you're almost to the finish" when there's still a half a mile left. While it might be "almost" to you, it's still a long way to little legs.
4. Bring A Playlist Of Your Kid's Favorite Music.
The right song at the right time can put pep in anyone's step, and it's no different for a kid. Make a fun playlist with your child's favorite songs then crank that music on a portable speaker stowed in a stroller. It can give you and your child exactly what we needed to finish the last half mile of the 5K.
5. Celebrate And Be Honest.
While most kids fun runs award medals to all participants, 5K's don't. If your child has run their little heart out and doesn't receive an award in their age group, be honest about why. Maybe they are at the younger end of the age group and when their little legs grow longer, they will get faster. If they didn't place and are feeling disappointed, remind them of the times in the race where they wanted to quit but pushed through anyway. Help them focus on the effort instead of the outcome.
Read More:
Why Running Like A Kid Is Super Beneficial To Your Health
5 Hilarious Reasons Your Kid Is The Perfect Run Coach