5 Reasons To Add The Ventura Marathon And Half To Your Bucket List
After running the Ventura Half Marathon in October 2017, Nat Runs Far shares 5 reasons why runners should add it to their race bucket list.
Heading out the door? Read this article on the new Outside+ app available now on iOS devices for members! Download the app.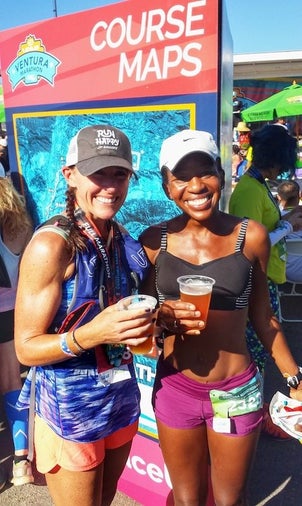 Surf's up, runner friends. If you're looking for beautiful beach vibes, a well organized race and a fast, easy to navigate course, come to Ventura, where paradise awaits. Here are five reasons why this SoCal course rocks:
Beautiful Location
The half marathon starts in Oak View, Calif.–located near beautiful Ojai. Gorgeous mountains make this a really stunning place to run. The course takes you all the way to Ventura, a quaint little beach town (60 miles north of Los Angeles) where you can catch a good wave, enjoy the sun kissed sand and have a good meal. The race ends right at the beach, so you can easily jump into the Pacific for a natural post-race ice bath. It really does feel like you are on vacation when you travel to this race.
Great Course
Whether you're looking to run with a group of friends or achieve a personal best, this race has it all: an awesome course that is marked well and easy to follow; well stocked and plentiful aid stations with friendly volunteers. The course is pretty, enjoyable to run and fast!
The majority of the race follows the Ventura River bike path. With the mountains in the beginning and the beach at the conclusion, you will find plenty to gaze at during the race's 13.1 miles. Additionally, there are plenty of portapotties at the beginning and end of the race with minimal lines, which is kind of a big deal for runners. Raise your hand if you've been in a massive line to pee before a race and panicked that you wouldn't make it before the gun!
I talked with many runners that ran the full marathon and they had nothing but great things to say about the full 26.2-mile course as well. Bonus–this race is a great place to qualify for Boston!
The race starts at 6:30 a.m. to beat the heat; this was a very smart move. We started in 47-degree temps and got to see the sunrise at the start. Pretty epic, indeed.
Related: 8-Week Intermediate Half Marathon Training Plan
The People
Runners are always cool, laid back, friendly folks, and the same can be said of runners in Ventura. Everything felt easy and uncomplicated from start to finish. Runners were shuttled from downtown Ventura to the start of race (the course is point-to-point). Bib pickup was offered the day before, but you could also easily pick up your bib (for a $20 fee) the morning of the race. I experienced no lines when I picked up my bib in the wee hours of the morning and interacted with happy volunteers. There were also plenty of volunteers on the course and afterwards to drape the medal around your neck and help with anything you might need.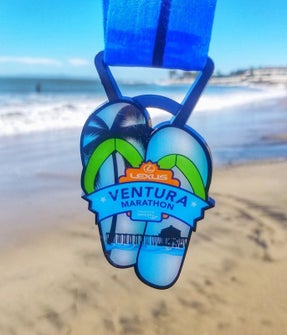 The Medal
Speaking of medals–this one was very awesome, dude. Very beachy with a flip-flop theme and ocean colors. It's definitely a keeper.
The Food And Band!
Ventura knows how to party. There was a very fun band playing tunes and runners were chilling out with beer, waffles and fruit. Beer AND waffles? Sign me up!
If you're looking to come to Southern California for good times, beautiful beaches and an awesome race, Ventura is the place to get it done.
Happy running, friends.
Related:
The 12 Scariest Things About Training For Your First Half Marathon
13.1 Tips For Running Your Best Half Marathon