What Really Happens On Race Day
Racing doesn't always go the way we plan.
Heading out the door? Read this article on the new Outside+ app available now on iOS devices for members! Download the app.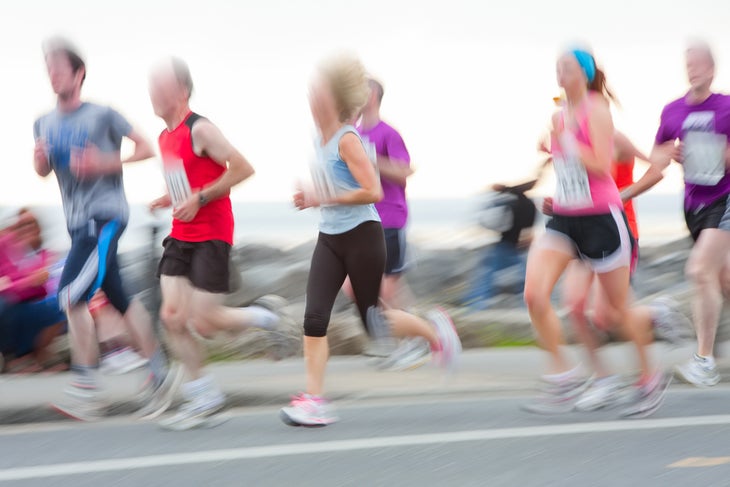 *Courtesy of RunHaven
You've paid the fee, trained for months and bought tons of Body Glide. You're ready for your race.
However, no matter how much we prepare, racing doesn't always go the way we plan. Let's take a look at what we expect to happen during a race and what actually happens.
Expo
Expectation: You'll pick up your bib and race shirt, check out some samples and maybe buy some souvenirs.
Reality: If it's a popular race, you'll spend most of your time in line — in line waiting to get your bib, in line waiting at every booth, in line waiting to pay for your merchandise. Which is, despite special "expo" pricing, always way, way more expensive than you were expecting. If it's a smaller race, there will be nothing to check out, and you'll be in and out with nary a race-branded mug or a photo of you and the Nesquik bunny.
Dinner
Expectation: A leisurely, carb-loading feast.
Reality: Every other runner in the world wants to eat in the same restaurant (or that's how it feels, anyway). If you don't have a reservation, you're out of luck. And you'll be rushed out of your table to make room for the next group of runners.
Sleep
Expectation: Early to bed, early to rise, leaves a runner healthy, wealthy and ready to PR. (You're a runner, not a poet.)
Reality: Race-day nerves usually take over, leading you to toss and turn and constantly figure out how many hours of sleep you'll get if you could just fall asleep now.
Pre-Race Bathroom Break
Expectation: You'll just quickly pop in to use the porta-potty before you head to your corral, just in case.
Reality: More lines. And, even though the race hasn't even started yet, the porta-potties will already be dangerously low on toilet paper. And then you better head to the back of the line after because you're definitely going to have to go again.
Starting Line
Expectation: You'll be in a corral with similarly paced runners, and when the gun goes off, you'll be able to quickly settle into your pace.
Reality: Slower runners decide to sneak into faster corrals, and you're basically stuck in a pack of runners for the first couple of miles. Think of it as a warmup before the crowd begins to thin out and you can go your preferred speed.
Race
Expectation: You'll start out slowly and end the race with a negative split and, of course, a PR.
Reality: It's possible! Trust your training and try not to get swept up in the excitement and start out too fast. Also, be flexible. Not running as fast as you had hoped? Make a new time goal. Get a minor injury? Decide that just finishing is what's most important. No matter how many races you run, there will always be factors you can't control.
Post-Race Meal
Expectation: You will stuff your face, and it will be the juiciest hamburger and most refreshing beer you've ever had in your entire life.
Reality: Yup.
What were some of your race-day expectations, and how did they turn out?
Related Articles
Race Names That Will Make You Laugh (Or Groan)
How To Train For A Half Marathon With A Busy Schedule
Elite Running Mamas
Eating With Crohn's Disease
Delayed Onset Muscle Soreness: What Gives?