Pros And Cons Of The MilestonePod, A GPS Thing On Your Shoe
Fat Girl Running took the MilestonePod for some test runs and has her official review—both pros and cons—of the affordable unit.
Heading out the door? Read this article on the new Outside+ app available now on iOS devices for members! Download the app.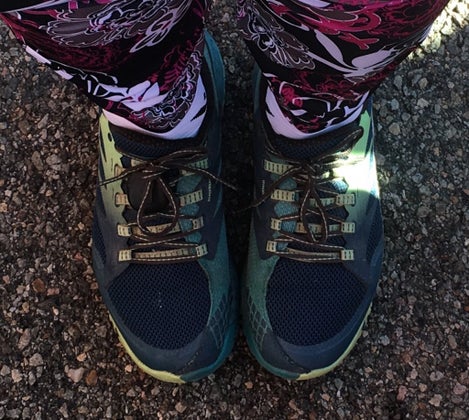 If you're looking to get the perfect gift for the runner in your life (and heck, that might be yourself!), look no further. The MilestonePod is here.
There are lots of gadgets and things that exist for people whose lives are fitness oriented. There are Fitbits, Garmins, Suuntos, Microsoft Bands, Apple Watches and many more gadgets that enhance our training. They help us to know how far and how fast we went, how many steps we took (and should continue taking), and how long we should rest before our next workout.
These things are great and they really do turn up your training. But what if you don't want to wear a bulky watch or carry your over-sized cellphone on your run? The MilestonePod might be the solution for you.
I've worn two slightly different versions of this lightweight device that you tie into your shoelaces and clip in. You download the app, enter the make and model of your shoe using the comprehensive pull-down menu, and finally enter the mileage. I like this little gadget for what it can do when you don't have access to one of its more expensive and cumbersome counterparts with GPS tracking abilities.
Here are some pros and cons:
Pros Of The MilestonePod
Cost: The MilestonePod only costs $25 as opposed to the hundreds of dollars you might spend on a Garmin, etc.
Weight: It weighs practically nothing and is easy to tie/clip in.
Battery: The device uses a watch battery that will typically last for about 6-8 months.
App: Displays useful information like pace, distance, duration, monthly total, cadence and "Runficiency"—a metric developed by the creators of MilestonePod that combines your cadence, stance time and stride length into a score out of 100. The interface is also easy-to-read.
Other: The MilestonePod will NOT drain your phone battery like other apps that require constant GPS tracking.
Cons Of The MilestonePod
GPS: There is no GPS tracking.
Accuracy: I've found that on runs longer than 10 miles, the distance on my MilestonePod has consistently been from 1.5-3 miles off. For both marathons that I ran using the MilestonePod, the readings were both 3 miles short of 26. Keep in mind though that mileage accuracy varies on every GPS watch, step-tracker or MilestonePod you have. My other devices—including my phone—can be way off at times.
If you aren't interested in mileage accuracy every single time, but want to get an idea of what your stride length is, or you want to know what your average foot strike per minute is, then this gadget is for you. It's light, easy-to-use, and won't be as much as your cell phone bill. I say, SCORE!