These 7 Moves Make Up The Ultimate Outdoor Workout
Take your gym workout outside with these body weight strength exercises, which are the perfect complement to your running routine.
Heading out the door? Read this article on the new Outside+ app available now on iOS devices for members! Download the app.
This outdoor workout is the perfect complement to your running routine. Body-weight exercises will make your stride stronger while toning muscles from head to toe. Plus, playing in the grass is way more fun than sweating in the gym—with the added benefit of vitamin D!
These exercises utilize only basic park equipment. All you'll need is a bench or picnic table, a grassy hill and your own body weight. Perform each of the following exercises in a row, giving yourself 30 to 60 seconds rest between each. Repeat the circuit once, twice or three times depending on how hard you want to work!
Crawling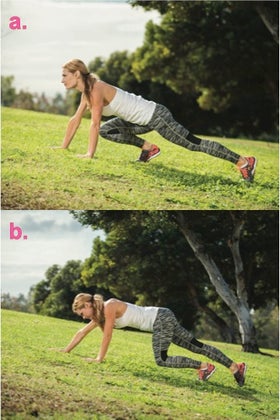 (A) Find a grassy hill and get on your hands and feet (not knees) in a crouched position. Crawl up the hill while keeping your hips down and core engaged. (B) After 20 "steps" up, hit reverse and crawl backward down the hill. This should be slow and controlled the first few times you do it. As you get more coordinated at crawling, you can pick up your speed.
Baby Steps
We crawled before we walked (and walked before we ran), so mixing the all-fours motion into your workouts helps strengthen fundamental muscles. And even though a toddler can do it, it's harder than you think. The first time you try to crawl, you may feel awkward. Each time you do it you'll feel more natural, eventually being able to control your body with ease. Use it as part of your go-to warm-up or strength routine.
Rotating Side Plank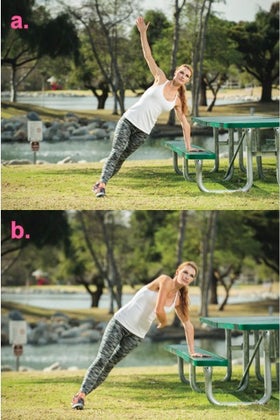 (A) Get into a side plank position with your left hand supported by a bench and your right arm extended toward the sky. (B) Keeping your hips stable, reach your right arm under your left shoulder and then return to the start position. Perform six to eight rotations, then repeat on the opposite side.
Core Power
Running with a weak core wastes energy—making you get to the finish line more slowly. Think of your core as the center of all movement. The more stable you can keep it, the more efficient you'll be. Perform the Rotating Side Plank with this in mind, focusing on keeping your center perfectly still and tight.
Side Step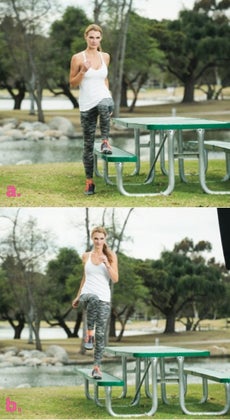 (A) Stand next to a bench with your left shoulder closest to it. Place your left foot on the bench. (B) Drive your body up with your left leg, lifting your right knee toward your navel and swinging your arms like you're marching. Hold for a second, then return to the start. Perform six to eight reps, and repeat on the other side.
Incline Pushups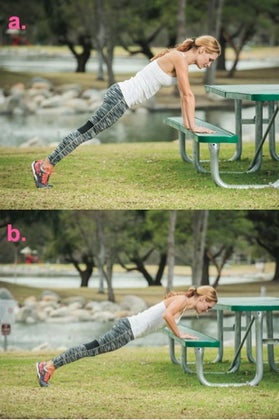 (A) Place both hands on a bench or picnic table and walk your feet out about four feet from the bench. (B) Keeping your hips in line with your body, perform eight to 10 pushups—bending your elbows and lowering your body until your chest almost touches the bench.
Single Leg Bend and Reach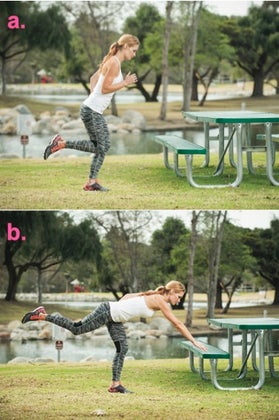 (A) Stand two feet away from a wall or bench, balancing on one leg. (B) Maintain a neutral spine as you bend at the hips to reach for the bench. Return to start and repeat. Perform six to eight reps, then switch sides.
Bench Jumps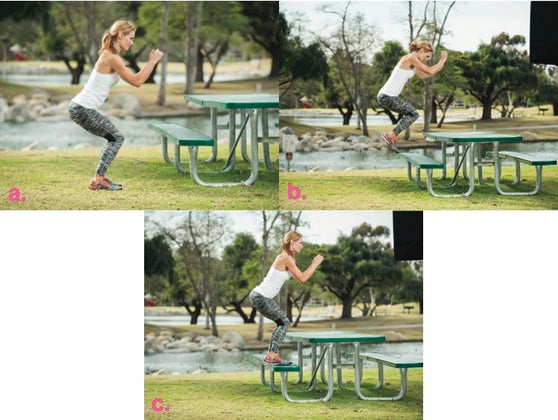 (A) Stand facing a step or bench about 12 inches high. Using both legs, lower into a small squat, (B) then jump and (C) land with both feet on top of the bench. Step back down and repeat. Perform eight to 10 jumps total.
Alternate Bench Jumps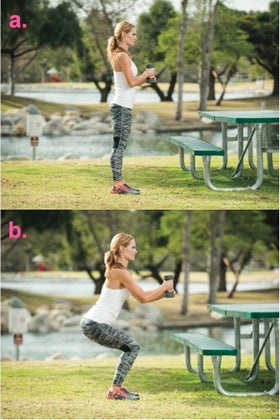 Not into jumping? Squat instead! (A) Hold a weight (optional) in both hands, (B) sit back until your quads are parallel to the ground. Squeeze your glutes as you return to the start position. Perform eight to 10 reps.