Last Minute NYC Marathon Tips
Endurance athlete Samantha Gash shares her last minute tips for the NYC Marathon
Heading out the door? Read this article on the new Outside+ app available now on iOS devices for members! Download the app.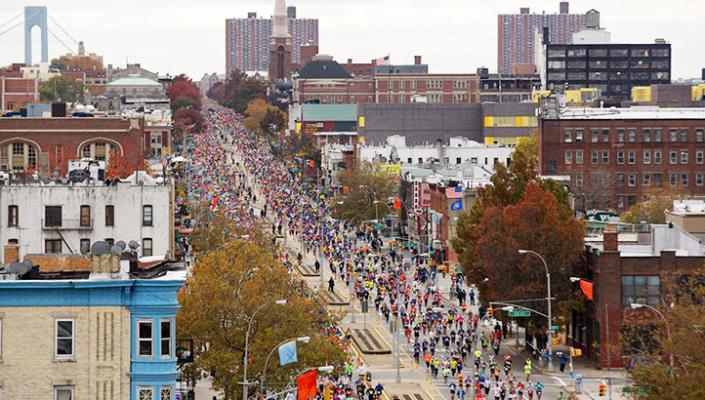 This weekend 50,000 people are going to cross the Verrazano Bridge and run 26.2 miles through the 5 boroughs of New York. While most of their training and work is already done, there are always a few last minute tips to successfully navigate the New York City Marathon. Endurance athlete Samantha Gash shares her top tips for the NYC Marathon.
1. Rest. You will have likely rested your body in the few days before the race. You've done the hard work & you gain nothing by trying to do last minute training sessions. But don't worry if you have a restless night of sleep the day before the race. Missing a few hours right before the race won't impair your performance. Plus you have an extra hour, thanks to the clock change. Kick your feet up, read a book, and do your best to keep your nerves at bay.
2. Hydrate. Proper hydration before, during and after the race is key. Get your balance between water & electrolytes by alternating between gatorade and h2o. It will protect you from cramping and help you recover. If you start to feel thirsty, it is often too late, so don't skip too many water stations early in the race. Have a plan for mid-race calorie replenishment as well.
3. Create a game plan. Study the course map. Have a plan about how you want to approach the race… and then try to stick to it. Even though there will be so much excitement at the start, run conservatively, especially on the first climb up the Verrazano Bridge. You should make it to mile 10 in Brooklyn feeling great. Don't worry if your pace slows on the 59th Street Bridge. You'll make it up on 1st Avenue- but stick to your predetermined race pace, even though the cheers from the crowd will make you want to speed up! Before long, you'll make it to mile 20, and then you'll only have a 10K to go. Give it everything you have!
4. Fuel up. Eating lots of good fats & complex carbs in the final few days before the race will give you the energy you need for 26.2 miles. Have a filling breakfast on race day. You have a long way to go! Stick to foods that have worked well in the past. If you normally drink coffee, a cup on race day is perfectly fine. Plus you may need it to stay warm while waiting on Ft. Wadsworth.
5. Enjoy yourself! The NYC Marathon is one of the best in the world. Family, friends, and complete strangers will be lining every inch of the course to support you. It is the best way to tour the city. The experience will change your life. Have fun!