How Treadmill Runs Measure Up To Outdoor Runs
The same activity can look very different whether you are inside or outdoors.
Heading out the door? Read this article on the new Outside+ app available now on iOS devices for members! Download the app.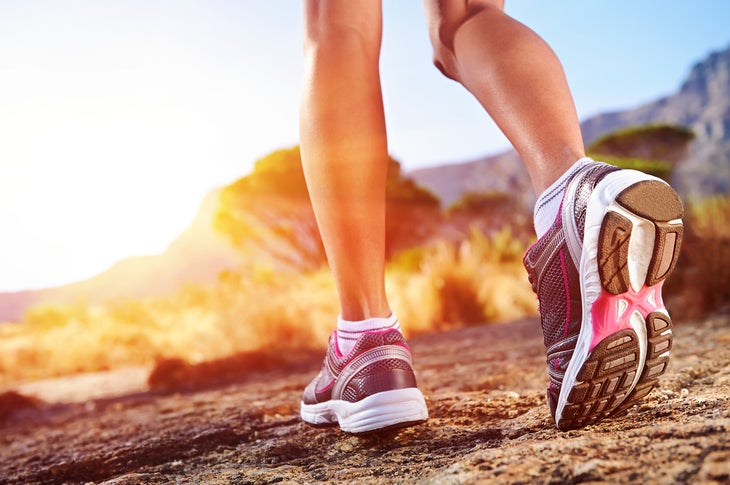 If you think about it, treadmill running and outdoor running appear to be two similar exercises. On the surface, these two have the same cardio benefits, same body mechanism, same movement. They even use the same muscles! But on a closer comparison, you can set a clearer picture. Gym and Fitness in Australia made an infographic, comparing treadmill running and outdoor running side by side, taking factors like weather, safety, benefits, etc. into consideration. Here's a breakdown:
Weather
Treadmill: Rain or shine, windy or snowy, anytime of the day, you can hop on and run on your treadmill.
Outdoor: The weather is your number one consideration. Although, wind resistance intensifies your run so, why not?
Injury
Treadmill: Most treadmills have a one-touch incline feature that allows effective cardio workout at a lower speed and it minimizes the heel-strike impact. Repetitive runs of the same time and pace can strain the same muscles and joints everyday though.
Outdoor: Running outside decreases chances of hip flexor strain but increases your heel-strike impact. Elements like hills, grass or steps shifts the body movement so it creates variation on your run.
Safety
Treadmill: You can watch over your kids/family and stay at the comfort of your own home. You can also just zone out.
Outdoor: Dark, rocky or slippery routes can cause accidents. You can't zone out at all. You need to stay focused because the roads are busy and constantly changing.
Related: Transition To Outdoor Runs With These 6 Tips
Competitive Running
Treadmill: Recommended for warming up and speed enhancement. The "consistency" sets your body to a different expectation when you actually race on the road.
Outdoor: It gives you the actual feel of the race. It prepares your body for similar conditions.
Shoes
Treadmill: You can wear the same shoes every day.
Outdoor: Most runners wear the same pair of shoes indoor or outdoor. Specialty shoes might be necessary on some circumstances, like rocky roads or icy trails.
Results
Treadmill: Mostly targets your quads because you don't have to push forward when your foundation is moving by itself.
Outdoor: Stimulates your hamstrings as well as your quads because you have to push forward and propel to move.
Related: Treadmill Workouts and Tips
Benefits
Treadmill: You can monitor your heart rate, calories burned, distance and other fitness metrics in a quick glance. You don't have to miss out on your favorite TV shows.
Outdoor: Fresh air and beautiful sceneries await you. A great way to get away from your busy life and from your gadgets. It's just you, nature, and maybe a few friends.
Extra umph!
Treadmill: The convenience of having your bottle holder anytime on hot days. Treadmills do cost a lot of money. Knowing that helps in motivating yourself to exercise so your money gets its worth. Since the treadmill is all about convenience, it gives you NO excuse at all to skip a session.
Outdoor: Exposing your skin to the sunlight is the most natural way to get vitamin D, which helps absorbs calcium and phosphorus (just remember sun protection!). Running outside saves you money from actually buying a treadmill and the extra electricity cost it'll yield. Why should you buy something you can do for free?