How Running Is Like Playing Tetris
Running is all a part of the game of life.
Heading out the door? Read this article on the new Outside+ app available now on iOS devices for members! Download the app.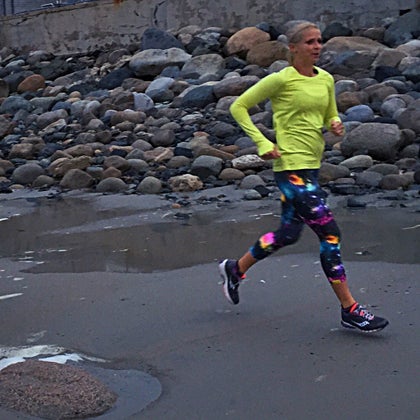 Sometimes life feels like Tetris: oddly shaped boxes flying at me at lightening speed needing to be turned and spun and stacked or else…GAME OVER.
It can all get a little overwhelming. And then I go for a run. Running is where I find clarity.
I get up early before anyone else in the house is awake (everyone that is except for my five month old). Put my contacts into my tired eyes. Lace up my shoes and don every reflective garment I own and head out into the dark.
One step after another I sort through the "boxes" of the oncoming day. Turning them, reversing them tumbling them around in my mind making it all "fit." Sometimes it's little things like the overdue library books or the fact that the shower really needs a scrub down. Other times it's bigger things like parenting dilemmas. Like how do we help our daughter deal with her frustration? I wonder if our son will ever be bullied because of the giant surgical scar on his back. Or I think about that friend that's asked my advice and I'm just not quite sure what to say.
Whatever it is that's on my mind or heart, I work it out on the road. One mile at a time. Rhythmic breathing. Wipe the sweat. Embrace the hill. Fly down the other side. I sort through all the thoughts all the hopes, all the worries, all the to-dos and the doubts.
Somehow when I hurl my body down the road my as fast my legs will take it my mind slows down and can process everything that's coming my way. When I'm running I become a Tetris whiz; all the boxes stack up and I live to play again.