How You Can Stay Fast After 50
Author Joe Friel shares why and how you can still run fast after the age of 50.
Heading out the door? Read this article on the new Outside+ app available now on iOS devices for members! Download the app.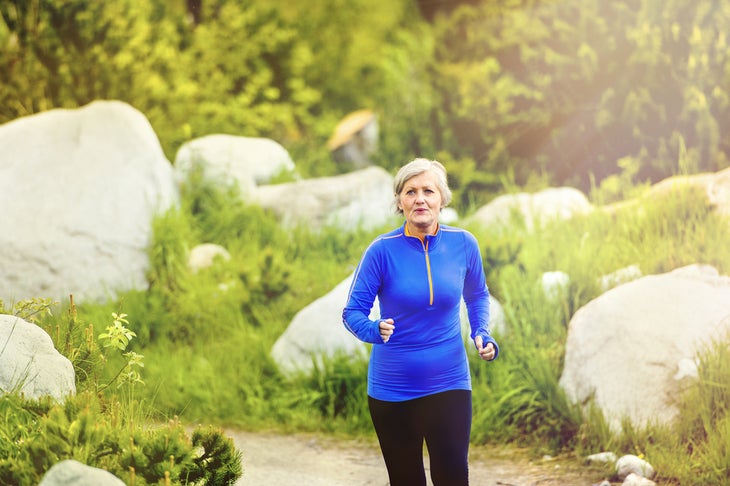 Author Joe Friel shares why and how you can still run fast after the age of 50.
Aging doesn't mean runners have to stop racing. It also doesn't mean they have to slow down. High intensity workouts and strength training could be the keys to staying competitive. We asked Joe Friel, author of the book Fast After 50, to debunk some aging myths and share what type of training keeps runners fit and fast.
Women's Running: What compelled you to write "Fast After 50"?
Joe Friel: In the summer of 2013 I was approaching my 70th birthday at year's end and was considering what starting my eighth decade of life might mean to training and racing. In the 1990s I had written a book called Cycling Past 50. There wasn't much research available on the topic of aging athletes back then but it was suggested that in one's 70s, the slope of performance decline becomes steeper. So that summer I decided to read the latest research on the topic. I reported in my blog on what I was learning. There was a great deal of interest by older athletes so I decided to write a book on the topic.
Related: 10K Training Plan
WR: In the book, you talk about the "aging myth." What do you think are common misconceptions of older athletes?
Joe: The most common one, I believe, is the notion that we are supposed to become fat and very slow as we get older—that it can't be avoided. We believe that because it's "normal." In other words, it happens to most all non-athletic people. But it doesn't have to. Aging athletes have a great deal of control over their bodies; they aren't normal people. And that's good.
As we age we're told by society that we should take pills to "fix" our many "normal" health problems. This is definitely not the case. Vigorous exercise as we age, along with a nutritious diet, is the key to health with aging—not pills.
We are also encouraged to train with less intensity as we age to protect fragile bones and avoid heart attacks by moving toward more long, slow distance. And not too much, mind you! The research strongly suggests that training in that way causes an even more rapid decline in performance.
WR: What are common mistakes you see athletes over 50 making?
Joe: The most common is that they back off on strenuous training, such as intervals and hill work. Instead they gravitate toward long slow distances because they buy into the above message that they should "play it safe."
Related: Repair and Recover After Tough Workouts
WR: Can you share a few tips on mitigating the effects of aging for runners?
Joe: According to the research, there are three things the aging athlete needs to consider doing to slow—or even reverse—the effects of aging. The first is to do high-intensity interval training frequently year round. The workout dose (how hard) and density (how frequently) needs to be determined on an individual basis. There is no single way of doing this that fits all athletes. The second is that they should do strength training to help maintain, or even improve, muscular strength that appears to be lost with age due to hormonal changes. These changes are somewhat improved by high-intensity interval training and lifting heavy loads, along with other suggested methods. The third tip is to reduce or maintain body fat—depending on current body composition—by experimenting with their diet makeup. The most effective dietary modification, according to the research, is to increase the intake of protein. There are other experimental diet suggestions made in the book also.
Joe Friel's new book, Fast After 50, is available at velopress.com.