Feeling Amazing While Running With These 4 Tips
Let's get confident while we cover our miles!
Heading out the door? Read this article on the new Outside+ app available now on iOS devices for members! Download the app.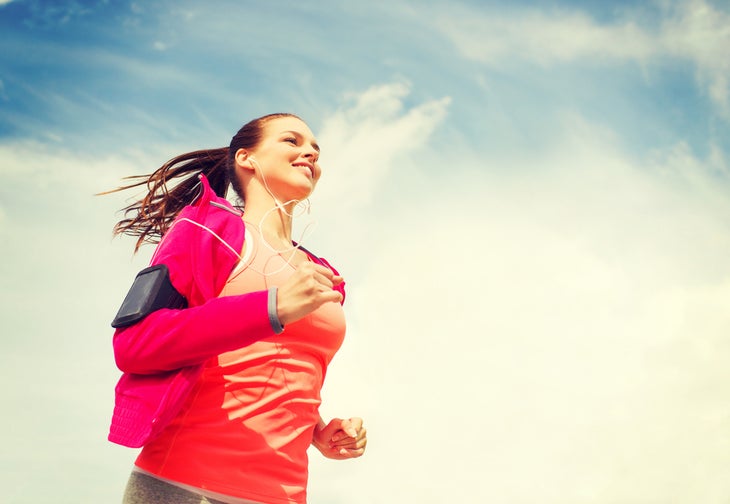 CREATE A GRATITUDE JOURNAL.
"An attitude of gratitude brings about confidence. Think about the things you're grateful for: all your body has accomplished, all the parts you love about yourself, all the opportunities you've had. By writing about it, you're putting yourself in the right mindset to believe in what you can do," says Tina Muir, a Kentucky-based running coach and community manager with RunnersConnect. Need a self-esteem surge? Read your journal.
Related: 3 Ways To Be A Happier Runner
CHOOSE A RACE-DAY UNIFORM.
One that makes you feel fast and powerful. "I race in black, because it makes me feel strong," says Sharon Gallant, pro triathlete and founder of FAB Foundation, a running and self-empowerment program for middle school girls in at-risk communities in Hamilton, Canada, adding, "If I'm looking for a bit of extra cheering from spectators, I'll wear my 'FAB' shirt."
DON'T LIMIT YOUR RACE GOAL TO A PR.
"Make a goal to find one new friend at the starting line—or to get a goofy race photo. It makes you excited for other aspects of the race experience," says Lora Mays, an Austin-based running coach who blogs at Crazy Running Girl.
Related: Can You Just Race For Fun?
STOP STRESSING. JUST RUN!
Perhaps the biggest inner-beauty boost of all is to adopt an IDGAF attitude. "Most of the girls I've coached were worried about the way they looked, but at the end of the day, would you rather run as fast as you can or look like an airbrushed image that's not even real?" muses Muir. Real runners get blotchy skin. Our hair gets sweaty. Our noses run. It's not a case of #WokeUpThisWay. It's much more powerful: #EarnedIt.