Editor's Corner: Packing for Race Day
Heading out the door? Read this article on the new Outside+ app available now on iOS devices for members! Download the app.
When you pack for a race, what you do stash in your duffel bag? I've been asking myself this question all week as I gear up to head to Ohio for the Rite Aid Cleveland Marathon.
I'm not much of a list maker, but when it comes to the marathon, you shouldn't leave much to chance. In a race where so much it out of your control (the weather, your stomach's temperament, the tightness of your muscles, etc.), it feels satisfying to concentrate on what you can control.
There's a lot that can go wrong before you see this sign.
In the past, however, I've been less than successful at completing this task. The night before I ran my first marathon, I was laying my race-day outfit out on the bed when I realized I'd forgotten a watch of any kind. Luckily, I found a friend with a spare, but the frantic search kicked my pre-race jitters into high gear. In my last marathon, I forgot tape to laminate my pace-cuff (it was raining), and had to make a pit stop at a Walgreen's that happened to be open at 7 a.m.
Getting to the starting line 100 percent prepared seems nearly impossible (for me at least). But I'm going to give it a shot this time around.
 Here's my race-day list: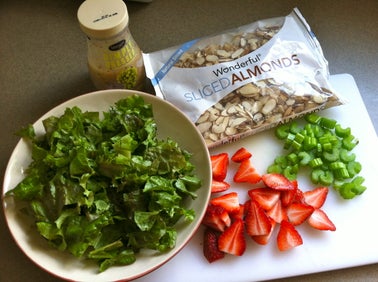 In a carry-on, naturally.
Hair Elastics
Sunscreen
Body Glide
Deodorant
Handheld Water Bottle
Sports Bra
Tank Top
Running Shorts
Running Shoes
Socks
Throwaway Sweatshirt
Throwaway Pants
Watch
Medical Tape (to tape my toes)
Pace Bracelet (laminated)
Safety Pins
-Bib/Chip
Gu Packets
Salt Packet
Flip Flops (for post-race feet)
Jacket (for post-race chills)
Written out, it's a little nutty how much stuff we actually take with us during a marathon—especially considering that during the race, we want to be carrying as little as possible.
I want to know, what makes your must-have list for race-day packing. Also, is there anything I'm missing?!
Let me know here or Tweet me at @JessieSebor.
50 DAYS OF GIVEAWAYS
Today's prize. . .
1 pair NEW BALANCE Minimus 3090
Win a pair of New Balance Minimus 3090 running shoes. This shoe allows you to experience running barefoot by finding a natural stride and foot-strike. Worth $100, newbalance.com
 
How to enter. . .
Comment on this post to be entered to win.
If you share our post on Twitter or Facebook, mention this in the comment and your entry will count twice. One comment per email address will be allowed each day.
Winner(s) will be announced the following day at the bottom of the blog post. Check in tomorrow to see if you won.
Good luck!!
Yesterday's winner. . .
Congratulations to Dominique@CraftfullyCooks who won a Title Nine Running Outfit. Please email Jessica@womensrunning.com with your mailing address to claim your prize!