Editor's Corner: Family Time
Editor-in-Chief Jessie Sebor shares how her parent's sacrificed and athletic endeavors shaped her life.
Heading out the door? Read this article on the new Outside+ app available now on iOS devices for members! Download the app.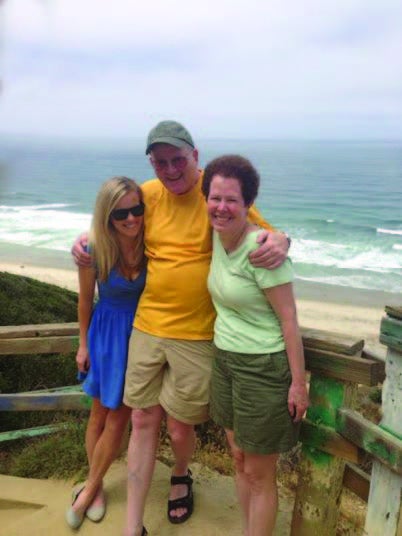 I have a clear childhood memory of one family dinner when my dad doled out the last spoonful of pesto linguine (the very best, bottom-of-the-bowl bite full of basil-y sauce) onto my plate. At 5 years old, I couldn't believe he wouldn't just take this for himself. He had the serving spoon in his hand!
In that moment, I had a flash of understanding: My parents were consistently willing to sacrifice their own happiness for mine—and they didn't (totally) seem to mind this arrangement. Well, that's weird! I thought, for a moment, before licking the pesto off of my fingers and thumbs.
Many years later, this memory continues to swirl in my brain. The sacrifices my mom and dad happily made for my brother and me (most of them much larger than a forkful of linguine) continue to humble me.
At the same time, my parents were not fans of filiarchy. They had their own priorities and activities apart from their children. Some other early memories include my dad regularly missing dinner for tennis, and my mom telling me to play on the shore at Walden Pond so she could swim across the lake and back.
It surprises me that moms who run often field questions like, "Can you really train for a marathon with a baby?" or "Don't you feel guilty leaving your kids while you run?" Though I don't yet have children of my own, I can speak from the other side of the equation. As awed as I was by the sacrifices my parents made for me, I was shaped by the actions they took to better themselves. My dad's tennis practices instilled within me the value of working out with friends. Watching my mom at the lake gave me the confidence that I might one day be able to swim just as far.
Our May issue was dedicated to mother runners who somehow find the balance between caring for themselves, their partners and their kids. You inspire me every day. And personally, I'm sending this one out to my mom and dad. Thank you for letting me eat the pasta—while making sure you fed your own lives too!
How did your mom and dad influence your running life ? Let me know—after you tell them of course—by Tweeting me @jessiesebor. I always(!) love to hear from you and almost always(!) quickly respond.