Eat Pray Run DC: Hit The Trails
Here are three great reasons why you should head to the trails this summer.
Heading out the door? Read this article on the new Outside+ app available now on iOS devices for members! Download the app.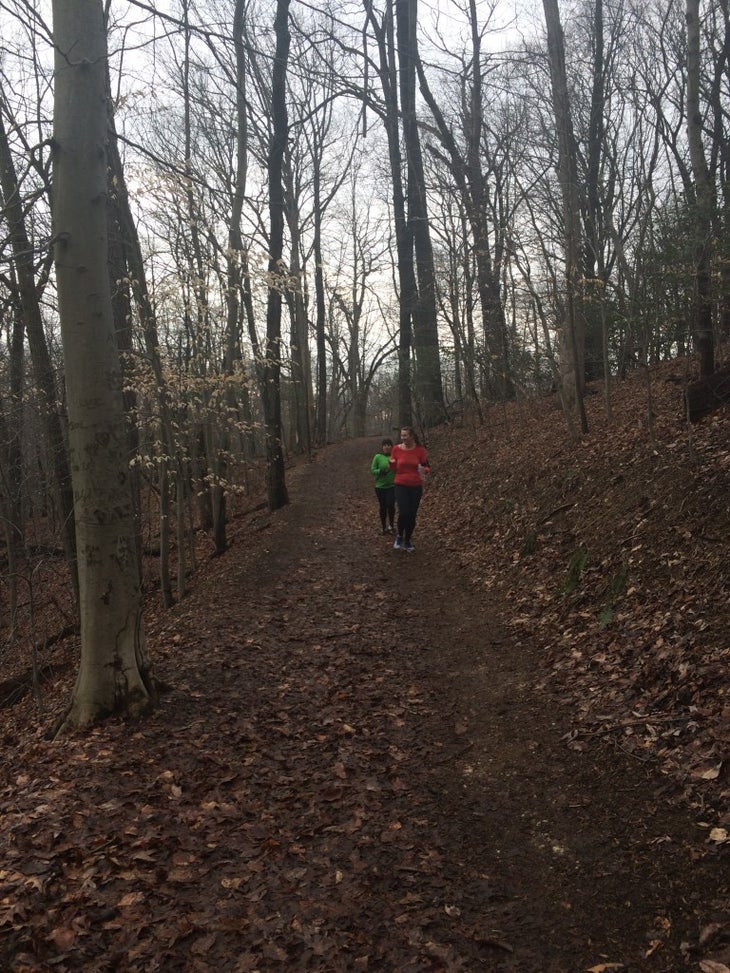 Lately I've been super lucky to have the opportunity to run some trails in the DC area. Actually there are quite a number of trails around here. I just usually stick to road running. However, after a few awesome trail runs, that might be changing. No, I'm not going to abandon my awesome road runs throughout DC. But I am going to be making an effort to get out on a trail at least a few times a month. Here are a few reasons why you might want to consider hitting the trails as well:
A change of terrain. Running on a trail provides a softer surface with less pounding that road running. It is a change that my body really appreciates it. Of course, trails also bring sticks, rocks, uneven terrain and more. You have to use your muscles in different ways while navigating a trail, and you must really pay attention to your footing. I love the challenge that trail running and a new terrain brings.
A change of view. Sometimes you have to get off road to see some incredible sights. When I was trail running a few weeks ago, the trail was located parallel to a road that I've run on a million times before. While it was always beautiful, I don't think I appreciated just how gorgeous the surrounding area was until I was on that trail, surrounded by trees and dirt and sky. It was breathtakingly stunning.
No pressure! When you take on a trail run, you know from the start that you will run slower than you do on the road. Navigating the trail simply slows you down. This knowledge equals freedom from pressure. On trail runs, I still track my mileage because I like knowing how far I've gone but I don't pay attention to my pace. I have a hard time doing this when I'm running on roads, but the trail gives me freedom. I love that.
I'm running trails this weekend and then a trail relay race in a few weeks. I'm so excited that I have all this trail running on my calendar. I'm learning to love it so much so that I'm thinking about getting some trail shoes!