Eat Pray Run DC: Coping with Cold Weather
This winter seems to go on forever, but Courtney shares some tips for surviving the last few weeks.
Heading out the door? Read this article on the new Outside+ app available now on iOS devices for members! Download the app.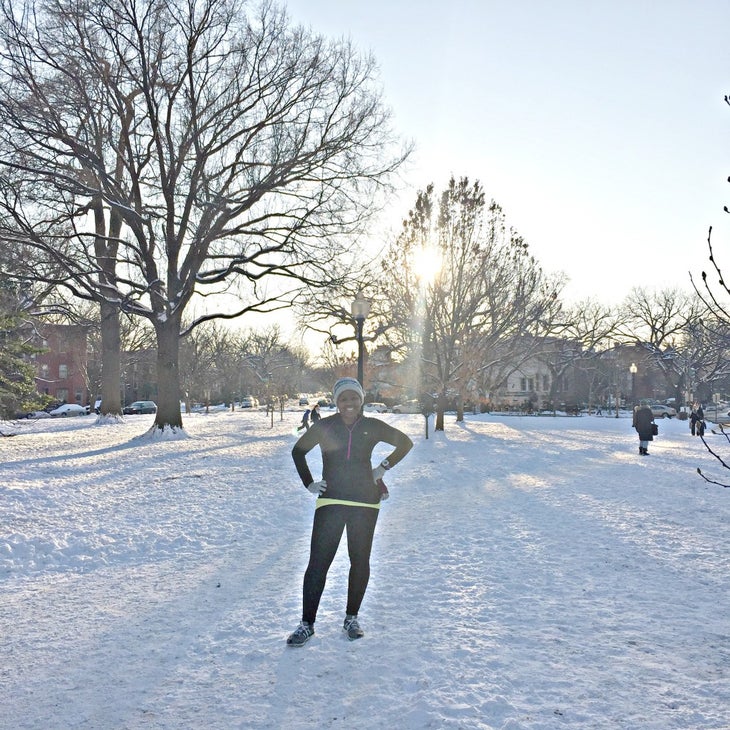 OVER. IT. That pretty much describes the thoughts of runners across the country as winter drags on and on and on. Here in DC, we've had it much better than say, Boston, but we've also had to deal with some dangerously cold temperatures and (the biggest problem of all in my book) ice. From the looks of it, winter is not going away anytime soon. Here's how I've been (somewhat) coping this winter:
Make your run functional.

If you follow my blog, you know that I'm mildly obsessed with Pure Barre. I usually drive the mile to and from class for convenience (read: laziness). However, this winter, I've taken to running to class, adding on a couple of miles, and running home at an easy pace to help beat traffic and get in my run. It's much easier for me to convince myself to run for a reason when the weather is bad. I have to get to class anyway, and I might as well save the gas and parking headache.

Follow the weather like a crazy person but be flexible.

I check my weather app multiple times a day. Often what I see determines when and how I run. For example, we've had some really strange weather weeks here in DC, where it's been 45 degrees while there was 5 inches of snow on the ground. When that day happened, I made sure to take advantage of it and get my long run in. On the flip side, when it started sleeting while I was running once, I called it quits and finished another day.

Have a backup.

On the days that you just cannot make yourself run in sub-freezing temperatures and can't deal with all the layers, head inside. For me, this requires planning since I don't belong to a gym or own a treadmill. However, my husband plays basketball every Saturday morning with a group of folks from our church. The apartment building where they play has three very nice treadmills and wifi. I've used those treadmills and gotten my run in when I just didn't have the energy to take it outside. Last Saturday, I had the added fun of watching the first episode of Season 3 of House of Cards! Sometimes taking it inside is the answer.

Buy yourself the right gear.

By this point in the season, you should already have everything you need, but don't be afraid to take advantage of stores putting their winter clothes on sale. I just recently got a new pair of fleece lined running tights (Oiselle's Moto Tights in case you are curious) and they are so cozy that they MAKE me want to run in the cold. I know. That feeling will probably fade soon but don't shy away from buying pants just because spring is (supposedly) coming soon. You can always wear them to a fitness class!
How have you been getting through this winter? Tweet @eatprayrundc and @womensrunning to share how you have survived this winter.