The Do's And Don'ts Of Your First Ragnar Relay
There's a difference between running 6 miles—and sleeping in a van, then running 6 miles at 3 a.m.
Heading out the door? Read this article on the new Outside+ app available now on iOS devices for members! Download the app.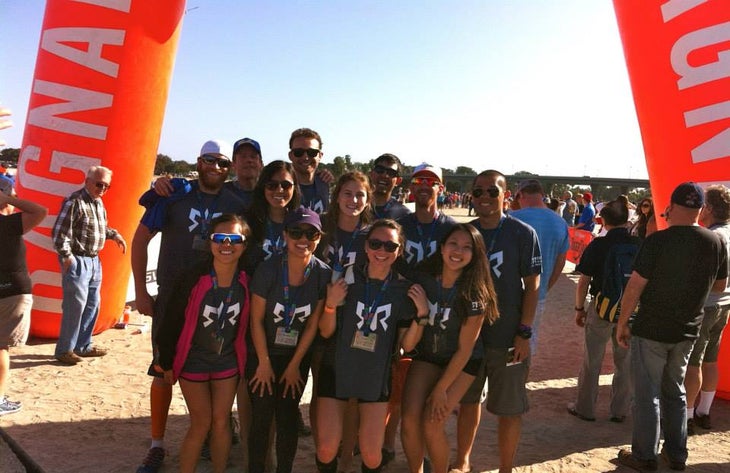 After watching so many friends do Ragnar SoCal in April, I got really nostalgic about my first Ragnar one year ago. Darn you, Carlsbad 5000, for falling on the same weekend this year. To this day, it is still my favorite running memory. From buying every loaf of bread and jar of peanut butter at Costco, to fighting someone at the car rental place for the last SUV, to staying up for 29 hours to support my relay team on our 200-plus-mile journey from Huntington Beach to San Diego, it is an unforgettable experience! For those of you planning to do a Ragnar this year, here are a couple of "rules" to prepare yourself for an awesome weekend.
Do watch your teammates start their relay leg. While it may be tempting to stay in the car to get a couple minutes of shut eye while they start, the best part of Ragnar is the support. It's going to be hard regardless to run at 2 a.m., but knowing your teammates are cheering you on and waving you off makes a world of difference.
Do not stay on your feet the entire time when you are not running. With that being said, once you are able to wave off your teammate and give them words of encouragement, stay off your feet when you are not running. You may think you're not tired after running your first leg of 3-6 miles, but you'll thank yourself for staying off your feet when your final leg rolls around.
Related: Confessions Of An Unlikely Runner
Do decorate your van. When we originally got to the first transition for Ragnar, we were so confused. Everyone had their SUVs and minivans decorated with their team names, the runners' names, and they made their vans look super fun and interactive. Thank goodness for a team parked next to us that let us borrow their markers for us to decorate. It distinguished our cars from others on the road when we traveled from one transition area to the next, and we always knew we were heading to the right transition point when we spotted other Ragnar vans around us.
Related: How To Be A Good Ragnar Teammate
Do not misread your transition locations. This sounds like a no-brainer, right? But after zero sleep, tons of miles logged, and a nutritious dinner of Fig Newton bars, your brain gets a little foggy, and Ragnar transitions start to blur together in the middle of the night. At least it did for our team when we arrived at transition 17 to pick up our runner—only to find out he was at transition 16 and had been waiting an hour in the cold for us. On that note, make sure someone always has a phone in the car and on the run—and a blanket to wrap said friend like a warm burrito.
Do have fun. Ragnar is unlike any other running event. When else are you going to be able to say that, with a group of people, you ran 200 miles over two days between two cities with little to no sleep?! It's not the race to worry about pace or the pace of the other runners on your team. It's not the race to worry about offending others that you smell bad. It is the race to celebrate the joy and love of running, friendship, and showers after 24-plus hours.
Carolyne Chen blogs at Run Miles With Smiles.