The Game Changer For Every Runner Who Cross-Trains On A Bike
If you hit the trails on bike, this gear is a must.
Heading out the door? Read this article on the new Outside+ app available now on iOS devices for members! Download the app.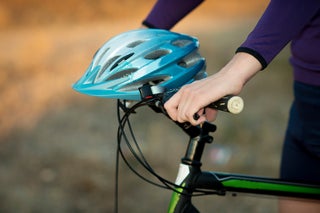 At the Dirt Series, we took a detour to geek out at the headquarters for Bell Helmets.
Plenty of sports warrant helmets, but running is not one of them. So it's conceivable that many of us don't actually know much about protecting our skulls. Bell has long been an innovator, coming out with the first helmets in auto racing in 1954.
Today the company is a leader in biking helmets. A sponsor of the Dirt Series, Bell makes a new model, the Super 2R, with more back-of-the-head protection, a visor with custom decals and a detachable chin guard.
"It's a game changer," designer Kyle Ellison claims.
Being able to take the chin guard off for easier terrain and put it on for gnarly descents is just the first of many surprises on a tour of Bell headquarters in Santa Cruz, Calif. Some of the designers are tattoo artists and work that aesthetic into helmets. There's a whole room full of 3D printers, not far from a crash-test area that's next to a wind tunnel. Artists who sculpt potential helmets in clay, add to and remove from the ridges and air vents at the whim of designers.
The brainpower behind this operation definitely gives you the confidence to trust them with your own noggin'.
Read More About
A Workout That Uses Bike Racks
These Camps Will Get You Cross-Training On The Trails