9 Of The Best Cross-Training Products For New Runners
Our editors shared their top picks for products to aid your non-running workouts.
Heading out the door? Read this article on the new Outside+ app available now on iOS devices for members! Download the app.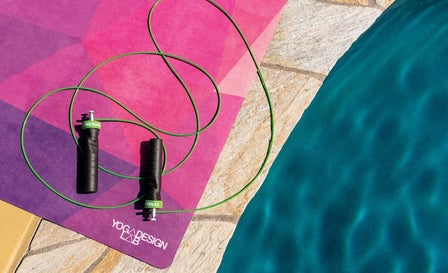 9 Cross-Training Products For New Runners
It may sound counterintuitive, but running isn't the only thing that will make you a better runner. Incorporating cross-training workouts, such as aquajogging, yoga and strength training, will help you become stronger and prevent injuries. Our editors shared their top picks for products to aid your non-running workouts.
Yoga Design Lab Geo Commuter Mat, $54
The premium eco-friendly Geo Commuter Mat from Yoga Design Lab combines a tree rubber yoga mat base with a suede microfiber towel (made from recycled plastic bottles) so that you can have cushioning and a nonslip grip while absorbing sweat during yoga sessions. The carrying strap is included and the best part? It's machine washable!
Hoka One One Tor Summit Waterproof Hiking Shoes, $160
Want to get faster? Take a hike. Bagging a local peak can build serious strength that will turbocharge your run. Hoka One One's Tor Summit Waterproof hiking shoes are a beefed-up version of the brand's popular running footwear, with thick lugs for confident footing and a waterproof upper that let's you handle whatever the trail throws at you.
AquaJogger Flotation Belt, $53
No, aquajogging isn't just punishment for injured runners. Deep-water running is a super-effective way to boost your run fitness without putting a pounding on your joints. This run-specific AquaJogger Flotation Belt lets you log laps without affecting your biomechanics or breathing.
Synergee Elite Jump Rope, $17
This playground staple has been turned into an important piece of gym equipment for keeping your heart rate up and building endurance on non-running days. We love that the Synergee Elite Jump Rope comes 10 feet long and is customizable based on your height (an included chart pinpoints your ideal rope length based on height). The jump rope comes with an extra rope cable and a zippered carrying bag, ideal for travel.
Trek FX 2 Hybrid Bike, $490
Why sit in traffic when you can bike to work? In addition to earning brownie points with Mother Nature, bike commuting can double as an effective cross-training workout. The Trek FX 2 Hybrid Bike is equipped with everything you need to get up, over and around any terrain, be it road or trail. (Bonus: If you ever decide to add a swim to your repertoire, you're an instant triathlete.)
Jasyoga Video, $10 Per Month
If you enjoy practicing yoga—and its many strength and flexibility benefits for running—but don't have the time, Jasyoga Video is a perfect at-home solution. Designed specifically for athletes, the on-demand yoga videos make for an efficient practice, boiling down the videos to the most helpful techniques and movements for athletes, all in 5–30-minutes. We've used the videos to sneak in a 30-minute core-strengthening session during the kids' nap time and a 10-minute hip "reset" when feeling stiff after a run. The videos also address topics such as stroller running, marathon training and pregnancy.
Nike Infinity Bra, $50
The new Nike Infinity Bra allows you to wear the same sports bra, no matter your type of workout. With a multitude of adjustment options on the straps and around the band, you can easily tighten it up for high-impact workouts (read: running) and loosen it up for lower-impact exercise, like yoga and weight lifting.
Bosu Ballast Ball, $40 For 45cm. Ball
There are countless exercise balls on the market for athletes interested in core and general strength training, so why not pick one that's designed to help you accomplish a little of everything? The Bosu Ballast Ball features a subtle six-sided surface that prevents it from rolling around while in use, giving users more freedom in the drills and exercises they choose to practice while using the ball. The unique surface design also means users are better able to maintain proper form during workouts—so you won't have to worry about rolling onto the ground in the middle of a plank.
Hovr With Floor Stand, $199
We're constantly told that we need to move our bodies throughout the day to prevent injuries, and many of us even have watches or apps that remind us to get up and move around. But for some, this can feel like a big ask—especially in the middle of a busy workday. Enter the Hovr with Floor Stand, a simple set of pedals that fits beneath a desk and provides busy worker bees with a way to keep their legs moving while increasing circulation and calorie burn in one of the quietest, least obtrusive ways possible. Hovr doesn't provide the fresh air you'll get from walking outdoors, but we'll take it over static sitting any day.
Related:
What Happened When I Tried Yoga As Cross-Training
5 Instagram Accounts To Follow For Cross-Training Workouts