Blogger On The Run: NYC Running Mama
Heading out the door? Read this article on the new Outside+ app available now on iOS devices for members! Download the app.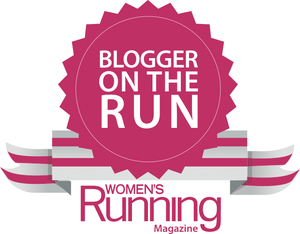 We know you will LOVE this week's Women's Running magazine Blogger On The Run– Michele from NYC Running Mama! This Army Veteran fell in love with running as a way to forge her freedom during three deployments overseas. She currently lives in New York City with her husband, 16 month old son and baby #2 on the way! Prepare to be inspired by this busy mom who runs to be the best she can be :).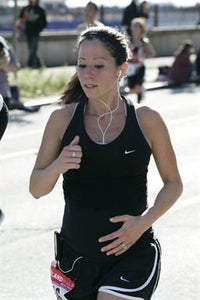 WR: How would you describe yourself? 
M:   Most importantly, I am a mother, wife, daughter, sister, and friend.  After that, I am an ultra runner, Army Veteran, writer, and running coach.  I am energetic, positive, and happy and try to prevent my OCD and competitive nature from getting in the way.
WR: How did you begin running?
M: Although I've been running most of my life (I played basketball in elementary school, high school, and college), I began long distance running my senior year in college when I signed up for my first race – the Philadelphia Marathon.  I had a love/hate relationship with running for several years after since it was required during my years in the Army.  It wasn't until my first deployment to Iraq that I truly fell in love with running.  I was homesick and stressed from the long hours I was working and turned to running.  Running became my best friend – the one thing I could rely on each day.  My daily run cleared my head, allowed me to be with my family in my thoughts, and allowed me the freedom I was missing during each of my three deployments.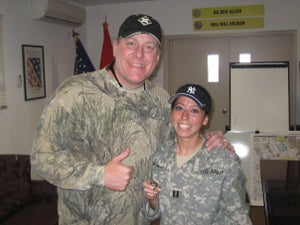 WR: What keeps you running and training?
M: First and foremost, my son (and baby #2).  I want to be a healthy, active mom for them and believe in teaching and leading by example.  I want them to grow up seeing that physical activity (not just running) is a normal part of everyday life.  Secondly, I enjoy racing and being competitive (with myself).  I'll never win any large marathons or make it to the Olympics, but I can train to beat my previous best time.  There is unexplainable satisfaction with knowing that you put in the miles, time, and sweat to train as hard as you could and then crossing the finish line faster than you ever have before.
WR: What's your favorite race memory?
M: Winning the Foot Locker Five Borough Challenge during the 2011 ING NYC Marathon. Each year, Foot Locker and NYRR selects five runners – one from each borough of NYC – to compete against one another.  You run the first 13.1 miles of the NYC Marathon together and then break off and race to the finish.  Participating in the challenge was the most amazing experience in the world.  It was my first marathon post-baby and I was excited to finally be running a marathon again!  We started the marathon 45 minutes before any other runner and had the streets of NYC and cheering crowds to ourselves!!  But, the most memorable part of the race was the last hundred meters or so – as I approached the finish line and tape (I was the first runner), I saw my husband, son, and mom standing just behind the finish line – waiting for me.  Some smaller races may allow friends and family to be at the finish, but since this was NYC, I never expected to be able to run into their arms and pick up my son as I crossed the tape.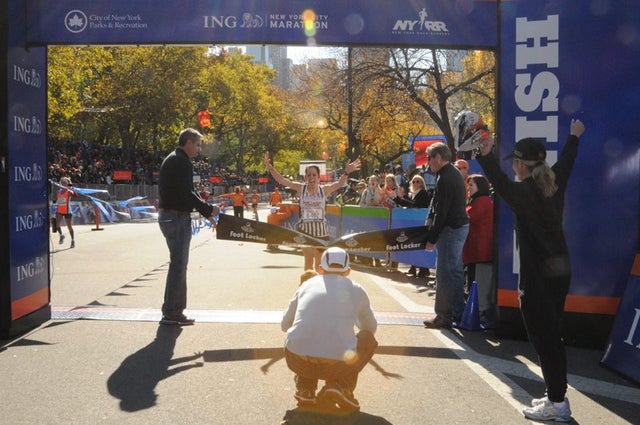 WR: What's your favorite indulgent treat?
M: A cheeseburger (with lettuce, tomato, avocado), fries, and a milkshake!
WR: Best running advice you've received or given?  
M: Look to others for ideas or inspiration, but don't base your success on them.  It's something my mom once told me years ago when I was in grade school, and I often have to remind myself of this when it comes to running.  I enjoy and appreciate reading and hearing about other runner's training plans, races, and PRs.  However, it's important for me to not strive to be them or run like them.  I'll never run 5:20 miles for a marathon like Kara Goucher or Desiree Davila – and if I spend my running career trying to run like them or be them, I'll never be happy because no matter what I do, I will never, ever run that fast.  However, if I measure success according to my own abilities, then running 7:00 miles will be a huge success – for ME.
Want to read more? Head on over to NYC Running Mama now!
Michele is a girl after our hearts with her favorite indulgent food choice- what's your favorite "sometimes" food?
50 DAYS OF GIVEAWAYS – DAY 24
Today's prize. . .
8 "Sweat Is My Fat Crying" No-slip Headbands from Bondi Band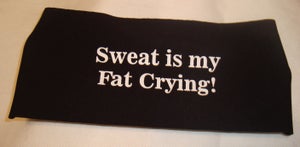 Win 1 of 8 Sweat Is My Fat Crying No-Slip Headbands by Bondi Band. These witty headbands are super-absorbent, comfortable and eye-catching. Worth $8 each, bondiband.com
How to enter. . .
Comment on this post to be entered to win.
If you share our post on Twitter or Facebook, mention this in the comment and your entry will count twice. One comment per email address will be allowed each day.
Winner(s) will be announced the following day at the bottom of the blog post. Check in tomorrow to see if you won.
Good luck!!
Yesterday's winners. . .
Congratulations to Jennifer F (from Austin), Wendy Calvin, Keli Elphinstone, Melissa Childress and Traci Johnston who won Provisioness Running Shoes by Altra. Please email Jessica@womensrunning.com with your mailing address to claim your prize!