Heading out the door? Read this article on the new Outside+ app available now on iOS devices for members! Download the app.
It's not too late to slim down and tone up for summer! Just head to the nearest beach, lake or bay to get hotter by the water. This high intensity workout, created by Rachel Cosgrove (BS, CSCS) is tailored for the shore as a super fun way to work up a sweat.
Workout Instructions:
Stand five yards from the surf.
Perform the following exercises as a ladder. You will decrease the number of reps per circuit as you continue the workout.
Begin with a circuit of ten repetitions per exercise, then eight, six, four and finally two.
During each circuit, try to move quickly from one exercise to the next.
Complete each circuit by sprinting into the water and back.
Rest for two to three minutes between each circuit.
Make sure you hydrate throughout the day.
SQUAT
Stand with your feet shoulder width apart and your hands behind your head. Squat until your thighs are parallel to the ground then return to the starting position. Make sure to keep your heels down, your chest lifted and your knees tracking over your toes.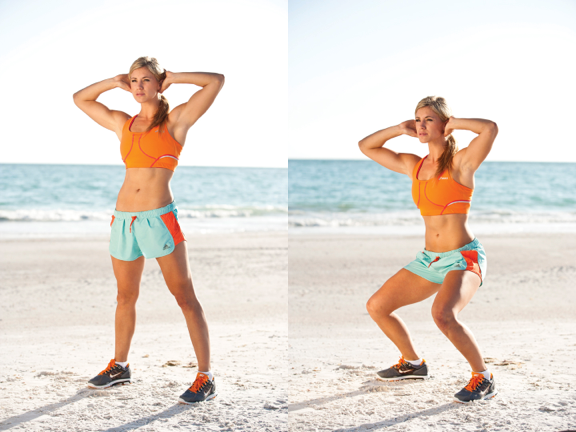 T-PUSH
Assume a push-up position. Keeping both set on the ground, transfer all your weight to your right hand as you rotate your body to reach up towards the sky with your left. Your arms should be in a straight line so that your body forms a "T" shape. Return to the starting position. That's one rep. Alternate sides. For an added challenge, perform a push-up between each reach.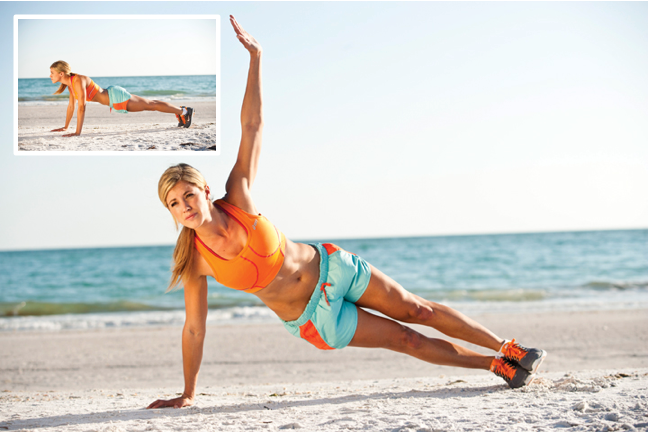 DYNAMIC LUNGE
Stand with your feet hip-width apart. Step two and a half feet forward with your right leg, and lower yourself into a lunge position. Keep bending your back knee until it almost touches the ground, pressing your front heel into the sand. Push off the right foot to return to the starting position. That's one rep. Repeat with your left leg.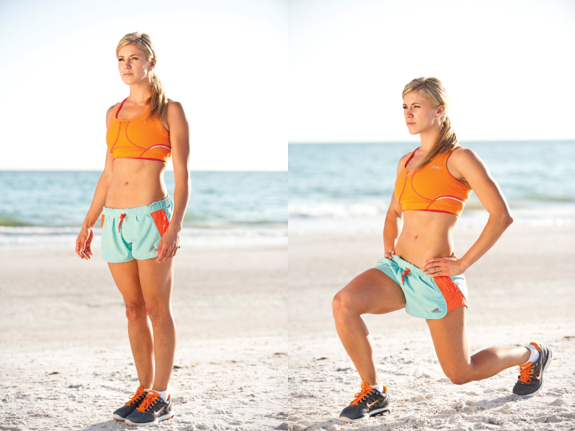 SPEED SKATERS
Stand on your right let with your left foot off the ground. Keeping your shoulders facing forward, push off your right leg and bound to the left, landing on your left leg. That's one rep. Then bound to the right, landing on your right leg. Keep your knees bent and jump as far as you can back and forth.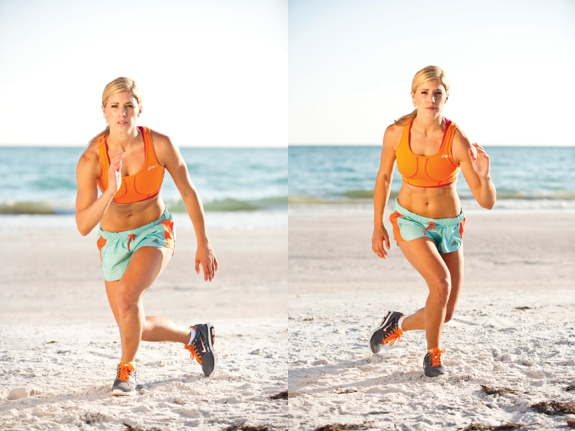 SQUAT THRUST AND JUMP
Stand with your feet together and your arms at your sides. Bend down and touch the ground with your hands. Press your hands into the sand, and jump your legs out into a push-up position. Then, jump your feet back in to your hands. Finish the rep by jumping straight up in the air. Repeat.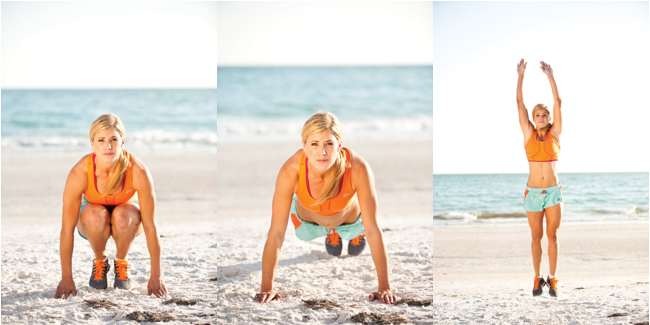 SPRINT
Sprint into the surf until the water's waist deep. Without resting, turn around and sprint back to your starting position. If you do not want to go in the water, spring to the edge of the water and back twice.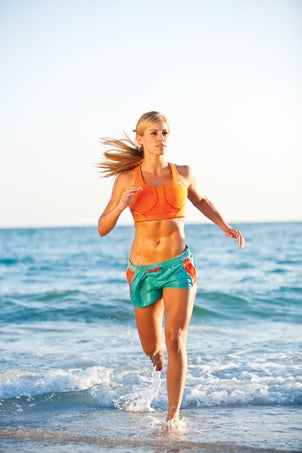 WORKOUT PROGRESSION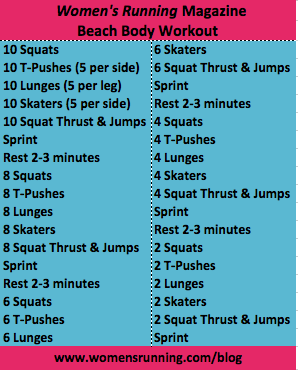 What's your favorite move during a circuit workout?