Achieve More In The Mornings With These Tips
Think you've tried everything to have a more productive morning? Think again!
Heading out the door? Read this article on the new Outside+ app available now on iOS devices for members! Download the app.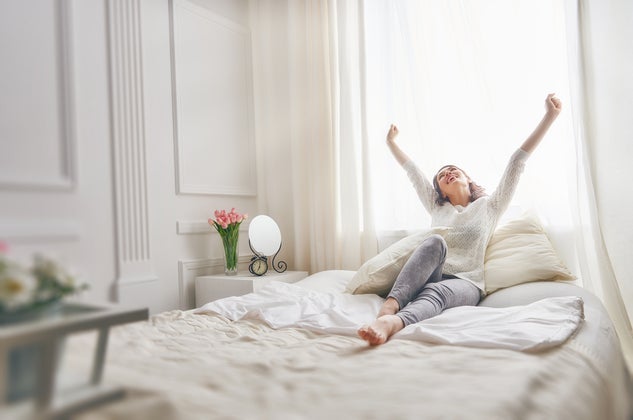 *This Post Appeared In Part On The Runner Beans
Starting your day in a positive way sets the mood for your entire day. Don't let the time before work/life become wasted hours, think of what you could achieve in that time. Here's how to make the most of your mornings, get your run in, eat well or catch up your current affairs.
Don't Snooze
Those 5 minute snoozes do not add to your quality sleep, nor do they reduce your tiredness, so eliminate them! Think how much time you've wasted in the past by hitting your snooze button 'just one more time,' and giving yourself 'just 5 more minutes' in bed? Skip the snooze by turning your light on straight away or jumping out of bed. Or try one of the Lumi alarms that gently wakes you up by gradually increasing the light level—life-changing!
When trying to become a morning person, don't try to change your waking up time from 8 a.m. to 6 a.m., you're setting yourself up for a fail. Instead try making it 15 minutes earlier every few days, until 6 a.m. becomes your norm!
RELATED: How You're Sabotaging Your Morning Workout
Set Up the Night Before
If you're not a morning person, don't trust your bleary-eyed self to get all your things ready for the day ahead. Packing your bag, laying out your gym kit, and writing your to-do list are all jobs that you can do before going to bed to speed up your morning, giving you more time to do other things(!), and should ensure you don't forget anything.
Create a routine
Have you got a morning routine? If not, it's time to create one.
Get up, make a coffee or hot lemon water, get into your gym kit, eat a banana and head out of the door? Or something that works for you and your own schedule. Creating a routine should ease the morning stress and rush, as well as ensuring that you don't skip any of your newly integrated healthy habits.
Prep your breakfast (and packed lunch) in advance
What better motivation to hop out of bed than a delicious breakfast, ready to go? Like these easy but tasty overnight oats.
Breakfast is the most important meal of the day, but the most missed. Many people believe that they'll save calories by skipping this meal, however studies show that you actually end up eating more throughout the day. Don't use lack of time as an excuse!
Making a packed lunch from dinner leftovers or easy salad will ensure you've got something to keep you on track at lunchtime rather than heading for the vending machine. And will save you money. Win, win.
Multitask
Could you eat your overnight oats on the train? What about getting your post-run stretch done in the shower or while you dry your hair? Meeting up with a friend for your workout or going with your partner gives you some quality time while getting a sweat on too. Utilize the time you do have by achieving more in those hours.
RELATED: 8 Tips To Become A Morning Runner
Get off your phone
Ever felt FOMO on a Monday morning after flicking through Facebook and everyone else's weekends look more fun than yours? It doesn't make you feel great, plus it's a huge time waster. Do you really need to watch that cat meme before heading to work?
Ditch that mindless phone scrolling and read the news, squeeze in a run, or meal plan for the week ahead. Feel awesome and accomplished, all before 8 a.m.!