9 Ways To Enjoy New Runner Struggles As Told By Jennifer Lawrence
New runners, there are so many ways to enjoy the new runner struggles!
Heading out the door? Read this article on the new Outside+ app available now on iOS devices for members! Download the app.
So you want to start running but aren't sure where to start. BEEN THERE! The good news is, you already know how to run. Pretend you're standing at the end of an open field and across the field is a giant stack of presents, puppies, kittens and pizza with your name on it. What do you do? Hopefully you run towards that pile of heaven faster than the speed of light. See? You already know how to run! The problem is that developing the physical and mental strength to run further than a few hundred yards can feel impossible and soul crushing.
I spent a good two decades convinced that I wasn't a runner. I thought that in order to be a runner, you had to be born a runner. Now I know that some people are in fact born runners but others, like myself, are made. So new runners, here are 9 ways to enjoy the new runner struggles as told by our Queen, Jennifer Lawrence.
Set a goal.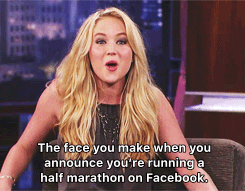 Don't just download a fitness app and get moving, find some sort of finish line to move towards. Then write your goal down, attach some stakes to it and announce it on social media or to your friends and family. You can't be afraid of failing when you're a new runner because just putting one foot in front of the other is a win.
Stop comparing.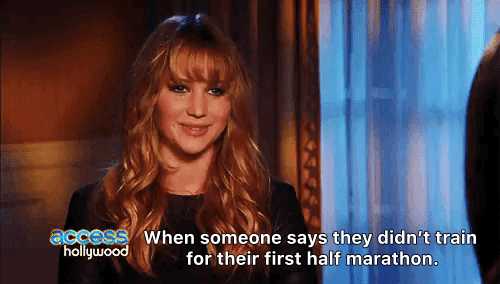 There are two bad words when it comes to running, comparing and quitting. Just because someone else makes running seem effortless doesn't mean that you're doing something wrong. If there is one thing running will teach you, it's patience. Just focus on what you can do today and try not to compare yourself to anyone else.
Befriend discomfort.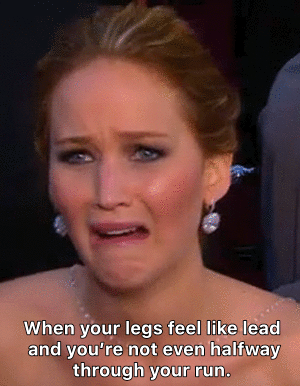 Understand that it's going to be hard. Know that being a new runner is going to hurt. Look, no one said it was going to be easy but stick with it! You're getting stronger with every step. Pain really is only temporary!
Don't feel self conscious.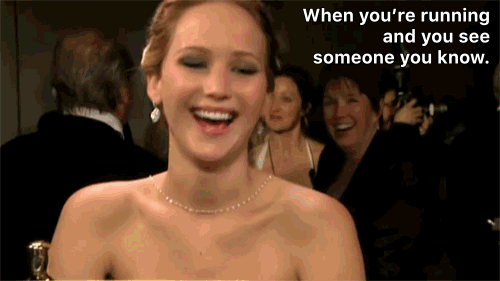 This is a big one, stop wasting your energy feeling self conscious when you run. If someone else wants to judge you, that's their problem, not yours. The only way to overcome feeling self conscious is to keep running. The more you run, the less you'll care. It just takes time. Just know that you're not alone on this one. I promise it gets easier.
DON'T GIVE UP.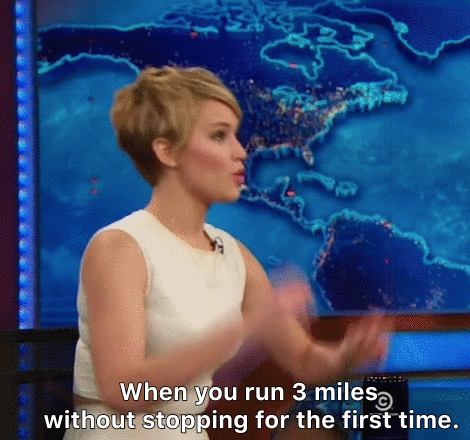 Take your training plan and focus on what you can control, the workout at hand. Doubt is inevitable, just don't give in! For some people, it's going to take a few tries before you reach your goal. That's OK! The only way you'll fail is if you fail to try.
Forget your pace.
Slow and fast mean something different to everyone. The sooner you stop worrying about your pace, the happier you'll be. Celebrate the fact that you run and stop calling yourself a slow runner.
Don't do it alone.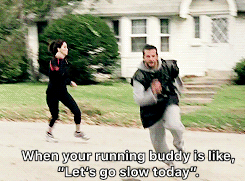 It's so much easier to have people to push you when you're feeling unmotivated. We're stronger together! The sooner you can find your squad, be it in person or online, the more fun you'll have!
Share your journey!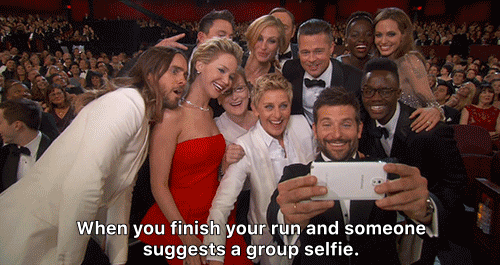 One of my favorite parts about social media is how easy it is to preserve your memories and accomplishments. Whenever I'm feeling discouraged, I look back at all the milestone selfies I've taken since I started running like the first time I ran 3 miles without stopping. Or the first time I ran a half marathon. It's an easy way to remind myself that I'm getting stronger with every step, even when it doesn't feel like it.
Have fun!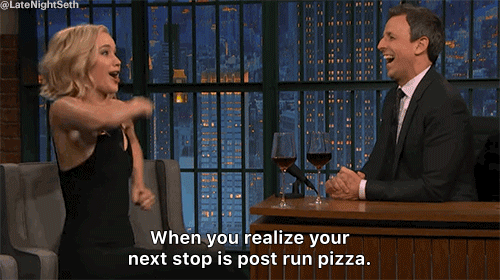 And most importantly, HAVE FUN. The best way to get through a particularly intimidating or bad run is to distract yourself. Take the time to enjoy being outside. Dance at stoplights and water fountains! Make the experience enjoyable and don't forget to enjoy the journey.
Becoming a runner isn't impossible, it just isn't easy. When you want to give up, remind yourself that you can do anything for just five minutes, then repeat. Celebrate every single milestone and remember you don't have to run, you get to run. Until next time, #RunSelfieRepeat.