5 Ways To Stick To Goals When Workouts Move Indoors
The weather doesn't always cooperate with your training plan. Moving indoors can be a bummer, but here's how to stay committed.
Heading out the door? Read this article on the new Outside+ app available now on iOS devices for members! Download the app.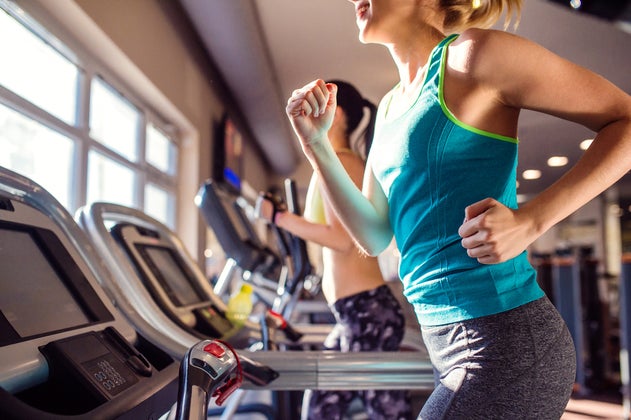 Sometimes the weather just won't cooperate, making it grueling to run outdoors. When that happens, the options are to embrace the heat (or extreme cold) or move workouts indoors for a while. For someone who loves to be outside, this can be tough. As I move my plan to the gym, it's tempting to lose sight of my goals.
I've been thinking about what will help me stick to my plan and here are some things that help me stay committed:
Mix it up indoors.
Variety is the key for me. I'm combining interval runs, endurance runs, Pilates, stability ball workouts and strength training with activities like biking and hiking, so I'm not in the gym all the time.
Get in and out of the gym fast.
Let's face it, after a day at work, anything over an hour is an eternity to spend in a gym. I've found that on days I want to strength train and run, it's great to break it up and do strength training at lunch and cardio after work.
Buy some new duds.
It takes a lot to make me spend money, but investing in new clothes motivates me—plus, having the right tech gear is worth it.
Put it on paper.
Since I want to minimize my time in the gym, I have to up the ante every time; otherwise I'm wasting my time. If I run intervals on the treadmill, I write down my speed and how long I can sustain them so I can try to go longer—or faster—next time. Plus, I make sure I'm exercising at 60 to 80 percent of my target heart rate.
Eat like it's my job
Okay, admittedly, this is not tough for me. What I've found is that small low-calorie snacks spread throughout the day keep my energy levels up so I don't miss a workout, but I never feel too full to exercise.
Weather is bound to force you inside at some point. What are your techniques for sticking with your training plan when you exercise in the gym? What keeps you motivated?