4 Reasons To Join Your Local Running Club
One runner shares why running clubs are so special.
Heading out the door? Read this article on the new Outside+ app available now on iOS devices for members! Download the app.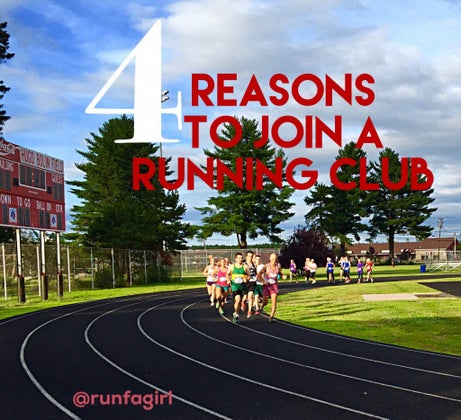 When I first found out there was a running club in my town I hesitated to join. What if everyone was faster than me? What if I ran alone? I have no idea what the lines on the track mean, how will I know what to run? I was scared and intimidated and for a while it kept me from joining. But in the end my desire to become a faster runner won out and I paid my dues, swallowed my pride and drove to my first track practice.
RELATED: Why You Should Run A Local Race
It was there that I met the friendliest (and quirkiest) bunch of people. I learned I wasn't the slowest, that I didn't have to worry about running alone and eventually memorized the lines and distances on the track. For me, joining a running club was a catalyst for becoming a better runner. It can be for you too! Here's why:
Strength in Numbers. Running with a group is a huge moral booster. There are times when you just don't feel like running, but knowing you are meeting a group for a run can help motivate you; it's a way to stay accountable for your training. And when the weather is bad, getting out there is just a little bit easier when you know someone else will be just as cold and wet.
Change of Pace. Running with a club can give you the chance to run with other runners who are both faster and slower than you are. Sometimes you can challenge yourself to keep up with a faster pace group or ease back and run a slower-than-normal pace. Both faster and slower running can be beneficial. Plus it gives you a chance to get to know someone new.
Be Safe. Running with another person or group of people is one of the best ways to stay safe on the road. Being part of a running club affords you access to group runs and can introduce you to a new running buddy.
Get in the Know. One of the best parts about joining a running club is being introduced to runners with more experience. Tapping into their knowledge about training and racing can help you grow and improve. Many clubs have club coaches that run track workouts or can provide input regarding your training. Being around a knowledgeable group of runners can be helpful. And you never know when your own experiences might help out another group member.
RELATED: Running Local