14 Hilarious Spectator Signs To Make For Race Day
Nothing is better than a funny, creative race day sign.
Heading out the door? Read this article on the new Outside+ app available now on iOS devices for members! Download the app.
There's no doubt about it, the true unsung heroes of race day are the spectators. Good race or bad race, a funny or inspirational spectator sign is nothing short of a blessing. When your quads are screaming and you're ready to fall over from exhaustion, a funny spectator sign isn't just a distraction, it's a lifeline. I've seen many a funny sign in my day but I wanted to share 14 of my favorite spectator signs with all of you.
1. Have you seen Kelly anyone? How far back is Kelly?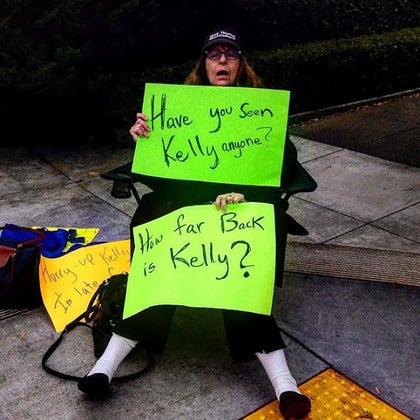 My Mom stepped up her game when she dragged her behind out of bed at 5 in the morning to cheer for me in the San Francisco Marathon. She said the runner's reactions to the signs were the best part. They would say, "We saw her stop in at a bar!" or "She's still at mile 2!" which kept her entertained until I got to where she was cheering. (Note the folding chair. Comfort while spectating is important.)
2. Beyonce never ran a marathon.
It's true. She may be Queen but Beyonce has never run a marathon.
3. Marathon and Chill?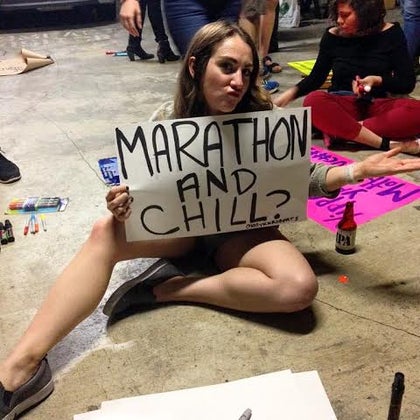 Perfect for a Valentine's Day marathon like the LA Marathon.
4. It's okay to cry.
Just a friendly reminder.
5. Run like Prince Harry runs from commitment.
Guaranteed to make you run faster!
Or an equally funny option…
6. Run like millennials run from commitment.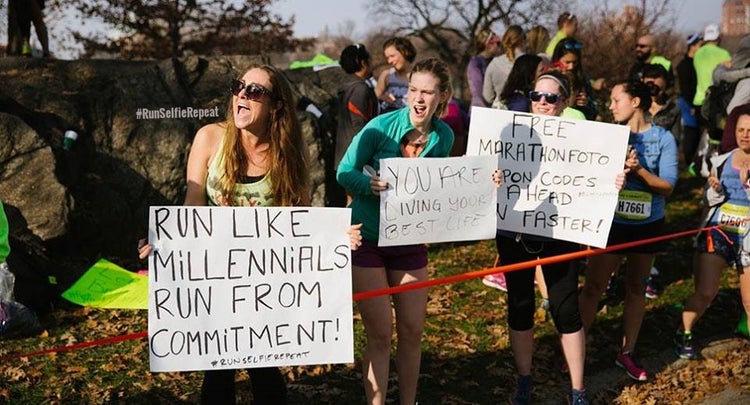 This will make anyone over 35 laugh.
7. Last Damn Bridge.
For that hilly race, park yourself on the last bridge and bring joy to every runner's race like this woman did.
8. That bad tinder date is behind you, run faster!
I just about fell over when I saw my sister's sign at the 2013 TCS NYC Marathon, that's how hard I laughed.
9. Shake Shack is only 10 blocks past the finish line.
It's funny because it's true.
10. Need money for next marathon. Please help. God Bless.
Every single runner can relate! (And who knows, maybe you'll even make a few bucks!)
11. Run like Maury just told you, "You are the father!"
How can you not laugh?!
12. Professional spectator.
Perfect for the supportive friend, family member, or significant other in your life who is always waking up at dawn selflessly to cheer you on in that millionth half marathon.
13. Free wifi ahead­ run faster!
The best sign for anyone running an international race. (The wifi struggle is real!)
14. John­, you're a cheating bastard.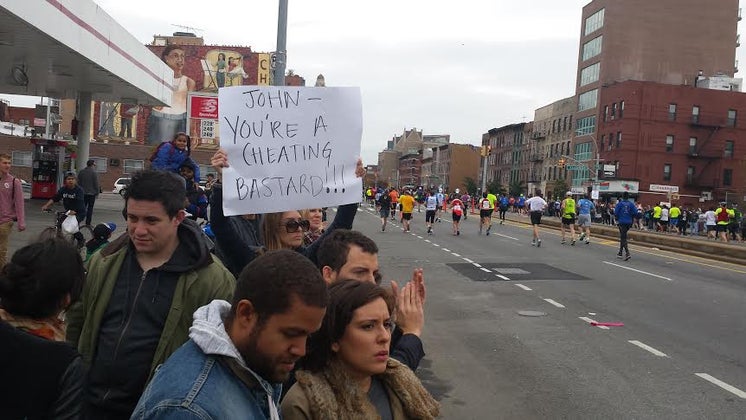 Just the distraction a runner needs around mile 20 of a marathon! You'll spend the next 6 miles thinking about John!
Let's be honest—there's nothing better than a funny spectator sign. What's the funniest spectator sign you've ever seen at a race? Let me know! Tweet them to me and Women's running at @KellyKKRoberts and @WomensRunning! Until next time, #RunSelfieRepeat.