Studies Literally Show How Music Can Positively Affect Our Running
Even the world's fastest female marathoner has her own go-to playlist before races.
Heading out the door? Read this article on the new Outside+ app available now on iOS devices for members! Download the app.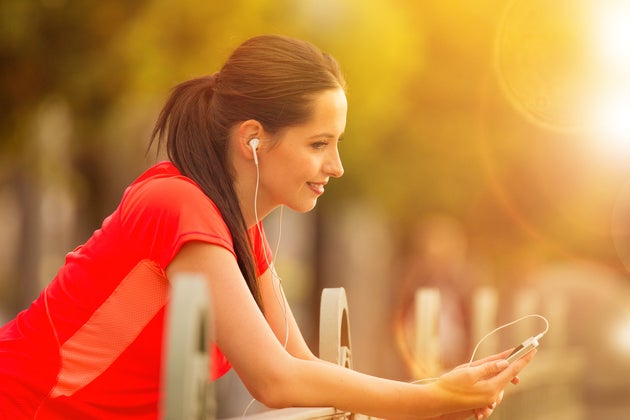 Music can have a powerful effect on our emotions—and our running performance. A study by the Journal of Positive Psychology found that music positively affects our well-being. Further, it "can reduce the perception of effort significantly and increase endurance by as much as 15 percent," according to Costas Karageorghis, Ph.D., from London's Brunel University School of Sport and Education. Karageorghis also claims that it could be considered "a type of legal performance-enhancing drug." And I certainly believe it.
When I don't run with my girlfriends, I have my playlist ready to go every time. Whether I'm bopping my head to Jay-Z or throwing it back to a Bruce Springsteen classic, my mood and running performance are undoubtedly enhanced. There is a reason you prefer the tunes that you enjoy listening to—it makes you feel something. As we run, music can give us that extra drive. According to the Health Science Academy, music diverts the mind from "sensations of fatigue that creep up and in during performance." In other words, sometimes a distraction is all we really need during a run—and there's certainly no harm in making things more enjoyable.
Related: The Best Treadmill Survival Playlist
However, there are other positive effects from music when we exercise. It helps to increase our psychological arousal and affects different parts of our brain; therefore it has the ability to motivate our thoughts and actions. For example, Paula Radcliffe, world record holder for the women's marathon, has a playlist that she listens to before a race. She says, "The great thing about marathons and some half marathons is they have 'power zones' pumping out tunes as you run past." She especially noticed the power of music in her 2002 debut marathon in London, when she dropped her mile times running through the "power zones." It was the music, she believes, that gave her that "extra boost."
Dr. Phil Maffetone, expert on health, nutrition and human performance, also says that music improves "immunity, digestion, and even hormone balance. That could lead to better running." So, quite literally, music is good for your health, as is running. And there's beauty in doing both together.
Related: 8 Wired And Wireless Headphones That Get The Job Done