What It's Like To Be A Total Track Nerd
Eat Pray Run DC wasn't always watching track and field on TV while jumping up and down screaming.
Heading out the door? Read this article on the new Outside+ app available now on iOS devices for members! Download the app.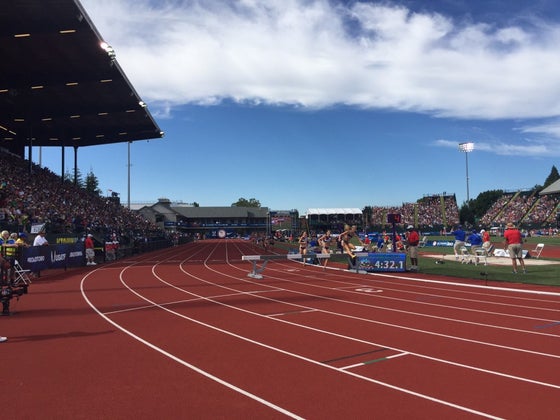 I sit with my eyes glued on the TV. I'm holding my breath as the runners round the final curve on the track. They head into the straightaway and I start cheering as one of my favorites—Kate Grace, an incredible runner for Oiselle—advances from the back-of-the-pack and just keeps passing runners. She is now in second place and there is the finish line. My dog looks at me, wondering why I'm jumping up and down in my seat and shouting, "Go! Go! Go!" at the TV. Grace finishes in second and is headed to the 800m final in the Olympic Trials*.
Since July 1, I have been closely following the U.S. Olympic Track Trials on TV, online and wherever I can. I've watched other sports as well, but I've been checking the calendar to make sure I'm not missing key track and field events. Over the past year or so, I've turned into a total track nerd. In February, I hosted about 12 women at my home, just so we could spend two hours watching a marathon. It was amazing. I could literally spend all day watching incredible athletes run; the Olympic Trials just take that to a whole other level.
The thing about being a track nerd is that you start gravitating towards other track nerds. My Twitter feed over the past few days has been just a bunch of track nerds going crazy. The neat thing about all this, is that seeing the sport at its highest level is so inspiring in my daily running. As I slog through another long run in the D.C. humidity, I think about those athletes who are running toward much bigger dreams than a 4:15 marathon. It doesn't make me value my dreams any less—in fact, it's just the opposite—I'm so inspired by watching them compete at the highest level that I'm motivated to do whatever I can do to make myself just a little bit better than I was yesterday.
I round the final curve on the track nearest my home. I'm finishing up a tough workout and not sure I can pull it out. I think back to what I've watched online; I think back to watching the greats on the track and say silently, Go! Go! Go!
*Kate Grace won the 800m final in an absolutely crazy race. If you didn't see it, go watch. It was amazing, exhilarating and heartbreaking all at once.
Have you been watching the Olympic Trials? What's your favorite event? Tweet @EatPrayRunDC and @WomensRunning and share with us!