What a Plus Size Athlete Wants—Options!
Healthy At Any Size athlete Regan Chastain shares her insights on training and apparel for plus-sized athletes.
Heading out the door? Read this article on the new Outside+ app available now on iOS devices for members! Download the app.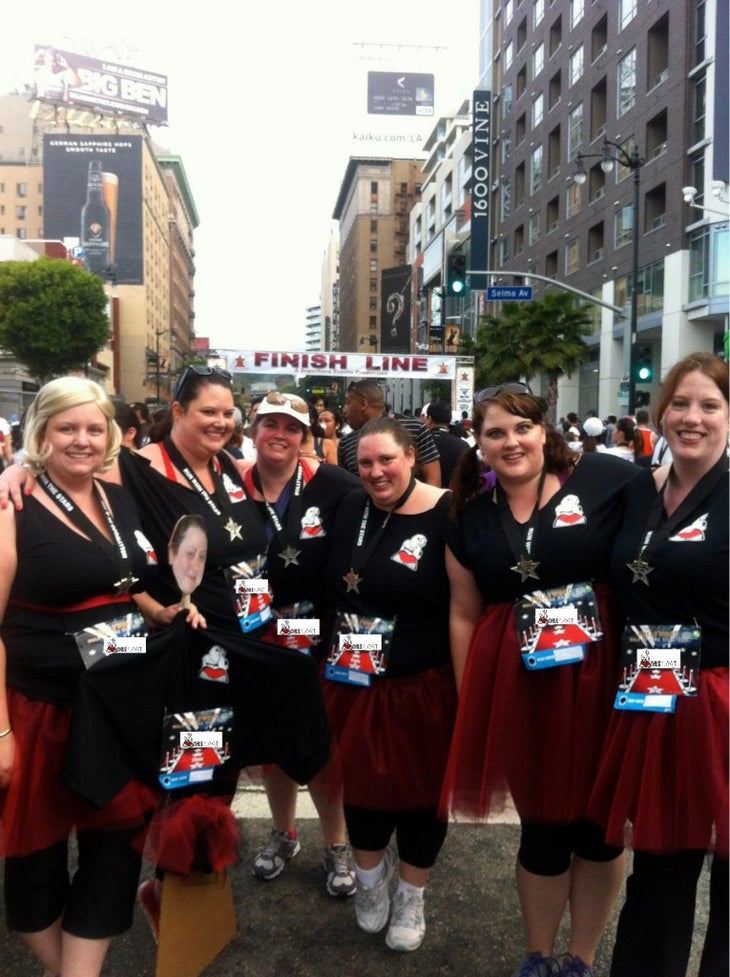 Ragen Chastain is a blogger, co-moderator of the Fit Fatties forum, public speaker and activist. She is also a "fathlete," and likes to participate in marathons and half marathons for the personal challenge and sense of accomplishment. Some naysayers have criticized Chastain for how long it took her to complete her first marathon—just over 12 hours. But the Long Beach, Calif., resident's goal is to prove size shouldn't be a factor when it comes to sport.
Chastain played soccer and volleyball while growing up and began ballroom dancing in 2004. Ballroom dancing eventually led to cabaret. A 5K run to benefit her cabaret company was her introduction to running. Chastain admits she always chose activities that spoke to her strengths and avoided any in which she didn't excel, such as distance running. But she realized she enjoyed the challenge.
Chastain, who is now in training for a 70.3 triathlon, was one of the women we consulted about what to look for in plus-size running apparel for our August feature Perfect Gear for Every Body. Read on for her insights.
What do you look for in running clothes?
Fat people have no more obligation than everyone else to exercise. Yet for those of us who want to and given the lack of options, I feel like we're supposed to exercise in our homes, with the blinds closed while wearing a toga. Running in cotton yoga pants just isn't comfortable. Technical fabrics (not cotton) and good fit are essential. Clothing doesn't just need to be larger. Getting stuff proportioned to fit is the challenge.
What frustrates you about plus-size running apparel?
We don't get the cute clothes that other people get. Options tend to be basic and generally black. Plus sizes, or as I like to call them "sizes," can be difficult to find in stores. Also, I'm short. As sizes get bigger, I feel like manufacturers think legs get longer. My yoga pants end up looking like I'm dragging a cathedral length train behind me. Tights are also much more common than shorts or capris, but I don't feel the need to cover up.
Do you have a favorite piece of running gear?
My iPod! I've rescheduled runs because I realized my iPod battery was running low.
"Hall of Fame" by the Script is my current favorite song for the end of a run.
What's your favorite running workout?
I prefer speed work. Running fast over a short distance is my jam.
What's your proudest athletic achievement so far?
Not quitting the 2013 Seattle Marathon! It was the worst day of my life. I walked it and it took four hours longer than I planned. I was hurting. I was miserable. But I just didn't quit.
When it comes to training and racing, what's your biggest challenge?
Pacing. I feel like it's a class taught at Hogwarts, and I just don't get it. I'm too fast or I'm too slow. Where does the time go?
What's your next race goal?
I'm training for IRONMAN 70.3 Arizona. It's in October. And then in 2016, I'm going to do IRONMAN Arizona—I want to get the M-Dot tattoo! Most of my problems have been gear related—finding a wetsuit that fits, finding a bike that works for me.
What is something you would like people to know about "healthy at every size" exercisers?
The main idea is to realize is that fathletes are just like you, only bigger. Our size doesn't require special adulation or your opinions or helpful tips. I know people are well meaning, but when 20 of us are doing a track workout and a spectator singles me out and says, "Good for YOU," it's frustrating. I'm just asking to do my workout like anyone else.