The Meatball Appetizer Everyone Will Be Talking About
These turkey pesto meatballs offer a healthy snack that the whole family can enjoy.
Heading out the door? Read this article on the new Outside+ app available now on iOS devices for members! Download the app.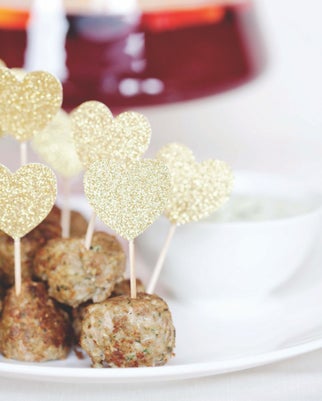 Inspired by Leah Garrad-Cole's new cookbook It All Begins With Food: From Baby's First Foods to Wholesome Family Meals, we collected recipes designed for kids that the whole family can enjoy. Here's a new take on meatballs that features turkey, pesto and Parmesan.
Related: Make This Kale Walnut Pesto for Healthy Fat and Nutritious Greens
I remember a friend once telling me that in an act of desperation to get her kids to try something new, she put a taco on a stick. How on earth she managed that I still can't quite work out, but the thought of her trying always makes me laugh. It is true, though, that food on a stick is always popular with kids, and here the sticks make these meatballs a fun party food proposition. Plus, as birthday parties often involve more sugar than a regular day, these are a potentially sanity-saving, protein-rich choice to help keep blood sugar levels stable and the party on an even keel. These grain-free meatballs are baked in the oven rather than fried, because the last thing you need at a kids' party is to be frying meatballs on the stovetop. These are also ideal as a finger food, as part of a family meal or to put in lunchboxes.
Turkey Pesto Meatballs On Sticks
Makes 24 meatballs
Ingredients (meatballs):
Virgin coconut oil, to grease the rack
1 pound ground turkey thighs
1 egg
1/4 cup almond meal
1/4 cup pesto
1/4 cup finely grated Parmesan cheese
1/4-1/2 tsp. sea salt (depending on how salty your pesto is in the dip, below)
Directions (meatballs):
Preheat oven to 375 degrees. Grease a metal roasting rack with coconut oil and set it over a roasting pan. Combine all meatball ingredients together in a large bowl. Use a wooden spoon or your hands to bring them together. Roll tablespoon-size amounts of the turkey mixture into balls and set them on the rack over the spaces so that the drippings will fall through. Bake for 30 minutes, until just starting to turn golden on top. To serve, stick cocktail sticks or lollipop sticks into the meatballs and serve on a platter alongside the dip.
Ingredients (dip):
1 cup whole-milk yogurt
1/4 cup pesto
Squeeze of lemon juice
Sea salt to taste
Directions (dip):
To make the dip, simply whisk together all ingredients in a medium-size bowl.
Party Tip
You can freeze meatballs on a tray before cooking. At party time place them in a 375-degree oven and add five minutes to the cooking time.
Related:
A Day of Healthy Recipes for Athletes Who Love to Cook