Avoid Summer Skin Bummers With These Tips
Now that we are in full-blown summer, the sun blunders are out in full force.
Heading out the door? Read this article on the new Outside+ app available now on iOS devices for members! Download the app.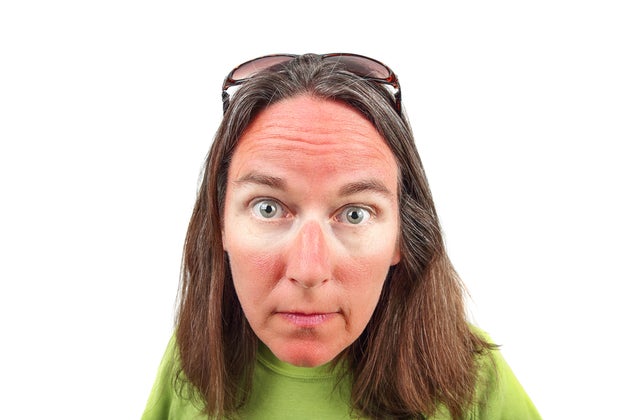 Annoying, and sometimes painful, summer bummers like sunburns, body acne and bloat can put a damper on your workouts—and leave you staying indoors instead of enjoying the summer sun. Experts suggest a few treatment options to help you recover and prevent summer pains, so you and your skin feel refreshed, hydrated and smooth.
Perspiration, Body Acne
Expert Tip: "To prevent breakouts in the summer, use oil-free moisturizer. During the hotter months your skin's natural oil combined with oil-free moisturizer is enough to keep skin well-hydrated. This trick will also help prevent skin from looking too shiny in the summer." –Alina Cimpoeru, lead esthetician at The Guerlain Spa
Treatment: Try a deep cleansing facial at a local spa. This will leave your skill feeling fresh and radiant.
Bloat, Water Retention
Expert Tip: "Hydration, hydration, hydration! Drinking plenty of water post-treatment helps to flush out the toxins overall smoother and healthier glow. Common causes of water retention during the summer months are the beaming heat, which causes the body to be less efficient at removing fluid from tissues, hydration is the main key to healthy skin!" —Spa Lead Tamra Spier at Hilton Orlando's eforea spa
Treatment: Try a body wrap that's filled with good-for-you nutrients. Most wraps are designed to slim, tone and breakdown fat.
Sunburned Body
Expert Tip: "One of the most important recommendations I give after sunbathing is to rinse your body with fresh water to remove salt and/or chlorine from the skin. These two elements will dry the skin quickly. The skin is incapable of producing water, only oils, so during summertime it is imperative to consume plenty of water; your skin will really appreciate it." –Frank Garcia, Spa Director at Fort Lauderdale Marriott Harbor Beach
Treatment: A full-body massage that uses plant-based creams, especially chamomile, will nourish and sooth the skin. When speaking with your local spa, ask them to use creams and oils that will fight dehydration, like plum kernel and quinoa oil.
Cracked Heels/Feet
Expert Tip: "Wearing sandals too much can crack the skin around your heel. This summer, maintain your skin's elasticity with a mineral exfoliator. It will act like a soap and leave you with a baby soft skin." –Christophe Champs, Studio Manager at the Metropole Espa Monte-Carlo
Treatment: Treat yourself to a nice foot scrub. Scrubs using natural minerals will clear away dead skin cells, leaving your feet silky smooth.
Chapped Lips, Wind-Burned Face
Expert Tip: "Use chamomile tea to soothe and relieve some of the discomfort of sunburned or wind-burned skin. The chamomile tea tannins offer anti-inflammatory properties that relieve the sense of burn and make you feel calm. I fill a spray bottle with cold tea and spray tea directly on the skin or for sensitive areas around the eyes, use teabags and place them over the eyes." –César Sánchez, Spa Manager at Costa Rica Marriott Hotel San Jose
Treatment: Get an antioxidant facial that uses natural ingredients rich in proteins, vitamins, minerals and botanical extracts—speak with your spa for a complete list of ingredients. An antioxidant facial will hydrate your skin, fight signs of aging, and leave your skin feeling refreshed.
Dehydrated/Flaky Skin
Expert Tip: "After a hot shower, cleansed skin is more receptive to getting hydrated using Thermotherapy. For dehydrated skin, use a hydrating serum for the face and neck. Soak a towel in warm water, cover the face and rest for five minutes. Then apply hydrating lotion, soak a face towel in iced water, cover and rest for five minutes. Skin feels hydrated, tighter and firmer."  –Michelle Arce, Marketing Director at Zen Spa Retreat at Sheraton Puerto Rico Hotel & Casino
Treatment: For dehydrated skin, get a deep hydration skin treatment that plumps cells and provides extra moisture.