These Women Are Injecting Botox Into Their Heads To Save Time After A Workout
Find out why women are suddenly obsessed with "Blowtox."
Heading out the door? Read this article on the new Outside+ app available now on iOS devices for members! Download the app.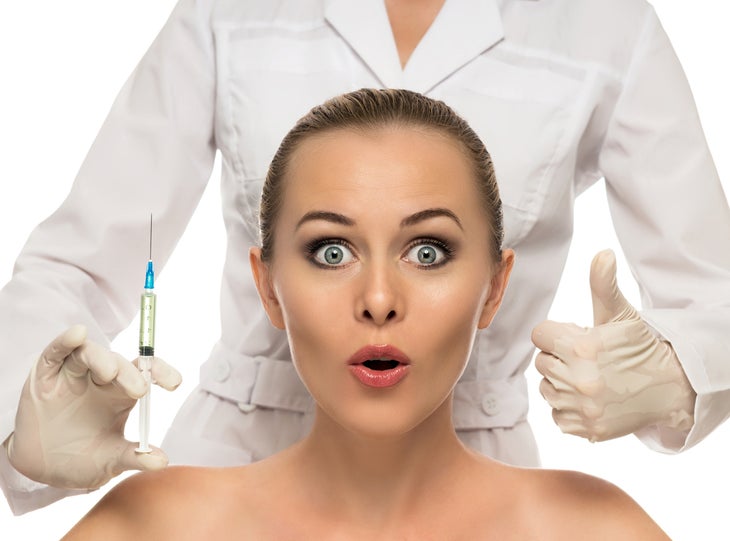 *Courtesy of RunHaven
Wait? What?
Now we've seen it all. Women are getting "Blowtox" —Botox injections into their scalp to stop sweating and prevent frizzy hair after workouts.
We don't look primped and styled after a hard workout. For me, it's sweaty, matted hair, a flushed face and salty sweat caked everywhere. Cute, right? It bothers some of us more than others. Some runners will rock the post-workout look all day without giving it much thought, but there is an entire chunk of the running population who doesn't feel comfortable or doesn't have lifestyles conducive to treating the workplace and world like their post-exercise lounge.
Some of those women who need to skip workouts if they don't have the time to properly beautify might be interested in Blowtox. Maybe. Blowtox is a nickname for when Botox, the wrinkle smoother that the FDA also approved for treating underarm sweating, is injected into the scalp. No scalp sweat means no hair frizz and your do will last for days.
Fast Company kicks off an article on the fad with a long, thick-haired woman named Jeannel Astarita. The article states that it takes her 40 minutes to blow-dry it and another 20 minutes to curl it. That's why she says she turned to Blowtox — several dozen shots of Botox in the scalp to stop sweating when she exercises—thus preserving her hairstyle for another day or two.
"It's common for SoulCycle people,"  New York City dermatologist Dr. Patricia Wexler told Fast Company. "SoulCycle is infamous for killing the hair."
Related Articles
5 Things Runners Need To Know About Trail Running
Why You Should Use Water Stops On Race Day
Should You Try A Marathon Training Program With 3 Runs Per Week?
How Sore Is Too Sore?
Crowdfunding Road Race Expenses—Tasteful Or Tacky?