The Perfect Blender For Busy Runners
Upgrade your old smoothie habits with this perfect blend of speed and smooth results.
Heading out the door? Read this article on the new Outside+ app available now on iOS devices for members! Download the app.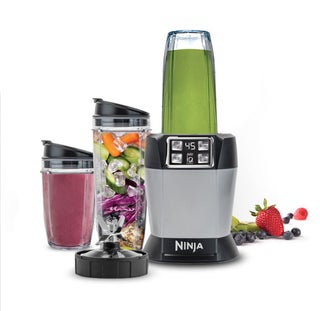 Update your smoothie game with this perfect blend of speedy and smooth results.
While traditional juicers leave you with a mess and regular blenders produce thick, chunky drinks, the Nutri-Ninja with auto IQ offers clean, smooth post-run bevvies, good for quick on-the-go meals as you step out the door. The powerful tool is easy to use—you can set it to mix your favorite ingredients and walk away while it works its magic. The motor offers 1,000 watts of power, and the entire set comes with three cups of different sizes and accompanying lids to sip and seal.
As a busy athlete, it's essential to find items that are hassle-free. Auto-IQ is a new feature that makes making pre- and post-workout smoothies a synch. The model has a ultra-blend setting, good for mixing frozen fruits. Unlike other blenders, you don't need to finely chop your ingredients. (You should cube and seed produce before tossing in the blender, which makes for about 5 minutes of prep work.)
The containers and lids are dishwasher-safe and BPA-free. The entire packages costs $150, so the Nutri Ninja is definitely for the ultimate smoothie lover that will reach for it every morning. If you only make juices or smoothies once in a while, a cheaper alternative might do the trick. But if you're a juice junkie looking for something to use while you race out the door to work, this is a kitchen must-have item.
Want to test it out? The Green Morning Boost recipe is tasty, easy-to-make energy booster.
Green Morning Boost
1 cup kale
1 apple, cubed
1 broccoli head
1 green bell pepper, cubed and seeded
1/4 cucumber, cubed and skinned
Set Auto-IQ to blend, and in less than a minute, you'll have a tasty green juice.
(How I came up with this recipe? I wanted a green juice but didn't have time to run to the store. I opened up the refrigerator to see what I had. I threw the five items together, knowing the apple will kill any earthy taste. I make this about four times a week.)
Fara Rosenzweig is certified personal trainer with a love for yoga and running. When she's not at the gym or outside logging the miles, she's planning boot camp classes for friends.