This Sandwich Recipe Will Get You Excited For Lunchtime
A sandwich is the perfect light-and-easy lunch and this recipe from Running on Veggies will have you excited for a mid-day break!
Heading out the door? Read this article on the new Outside+ app available now on iOS devices for members! Download the app.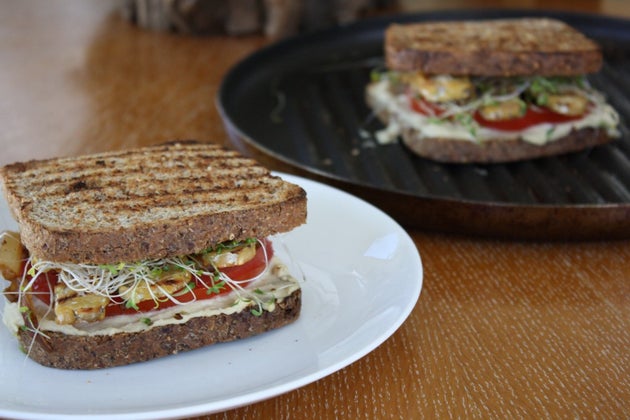 *Courtesy of Running On Veggies
A salad is always a go-to for me, but when I want to pack something light and easy it's gotta be a sandwich. Not just an ordinary sandwich; I like to take it up a notch. From the bread to the protein to the spreads, a sandwich can be a great healthy lunch if done right.
When choosing a bread, go for something sprouted. Look at the ingredients and make sure you are familiar with every ingredient that is in it. If you see something unusual, look it up. Be mindful about what your eating! A safe bet for me is Foods For Life Ezekiel bread. It's always sprouted and truly has quality ingredients. For the protein source, I went with tempeh. If you are not familiar with tempeh, fear not. You can find it at most grocery stores in the refrigerator section next to the tofu. I like to call tempeh "tofu's healthier cousin." It is fermented, which makes it easier to digest and less processed than tofu. It is a great protein to pair with my my homemade BBQ sauce because it absorbs flavors really well.
Now on to my favorite part of the sandwich: Blue Moose of Boulder spreads. Based out of—you guessed it Boulder, Colo. (my favorite place in the whole world)—what makes Blue Moose of Boulder so unique is that they make their products daily and in small batches—never in mass quantities. And you can taste the difference from your typical generic hummus. I also love all the unique flavors. It comes in green chili, roasted red pepper, garlic,smoked chipotle—so many flavor choices! What is also unique about their products is that they are cold pressed, allowing all the vitamins and nutrients to stay intact.
I first noticed the hummus when shopping around at Whole Foods in Boulder on Pearl Street. I loved the flavors but was even more impressed with the ingredients. They also made these little gluten-free snack packs paired with with gluten-free crackers—perfect if you are on the go. After seeing how minimal the ingredients were, I knew I needed to try it for myself. It is the perfect addition to any sandwich or salad. Offering tons of flavor along with a healthy dose of protein and fiber that is found in the beans. My personal favorite was green chili; a little bit of spice goes a long way! If you live in Colorado, be sure to look out for it in your refrigerator section. Some Blue Moose Hummus, caramelized onions, tempeh, tomato and sprouts all sandwiched with sprouted bread and you have yourself an easy weekday lunch!! Have all the ingredients ready in the refrigerator, combine in the morning, pack it up and off you go.
TOASTED HUMMUS AND TEMPEH SANDWICH Recipe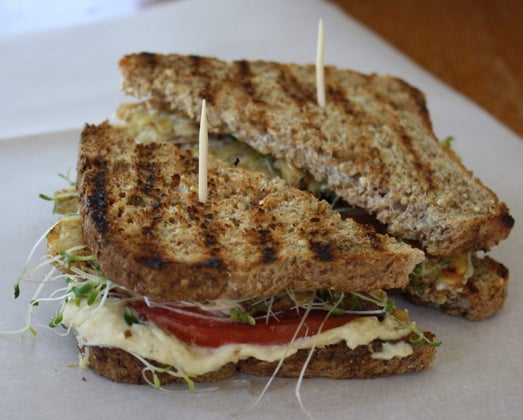 2 pieces sprouted bread
2-3 oz tempeh
1 slice of tomato
1/2 onion thinly sliced
1 tablespoon balsamic vinegar
1/4 cup sprouts
Directions:
Prepare a medium pan with non-stick spray. Place over medium high heat and add sliced onions. Cook for 5 minutes stirring frequently and add balsamic vinegar and cook till golden brown, total time 15-20 minutes. You may need to add water to avoid burning or the onions sticking to the pan. Put aside when finished cooking.
Meanwhile while the onions are cooking prepare the remaining ingredients. Slice tempeh into into around 8 strips, place in the oven or in a pan on the stove and cook for 20 minutes over medium high heat or if its in the oven on 400 degrees.
Toast your bread until desired. I like mine golden brown.
To assemble sandwich, first spread 1 tablespoon of hummus on toasted bread then add tomato, caramelized onion, tempeh and sprouts. Place remaining bread on top of sandwich. Hold together and eat!
Note: This recipe can easily be doubled or tripled.