Just Because You Run Does It Mean You Are Active?
After a question from a doctor, Mile Posts started to reflect on what it really means to be active everyday AND a runner.
Heading out the door? Read this article on the new Outside+ app available now on iOS devices for members! Download the app.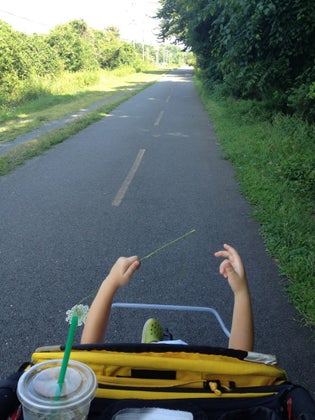 "…..well are you active? You might want to consider snacking on things like carrots and apples."
The comment stung like an entire hive of bees had decided to make me their target. I had just run 13 miles the weekend before this doctor appointment. Thirteen miles while pregnant. How could my doctor ask me if I was active? The lump in my throat prevented me from telling her just how far I had ran. Or that when I told her from the get-go that I was a runner, I meant that I was a runner. Pregnant or not, I was an active person.
When I left the doctors office, I cried, called my mom and whined about how awful I felt and how I wanted to switch doctors. "How could she say that to me?" I got defensive and then I got angry. Sure I had gained what doctors consider to be TOO much in a 4-week period, but I didn't care about that. Nor did I acknowledge to myself that all of those trips to the candy shop while on vacation added up. She was wrong. I was right. I was pregnant. Didn't I deserve to eat as much junk as I wanted? I run, therefore I am active, therefore I can eat what I want.
I'm one of those people that ALWAYS learns the hard way. There is no other way for me to learn other than to experience something myself and possibly get defensive. I can then grow and realize the error of my ways.
It's been over 4 years since that doctor told me to snack on carrots and apples, and it's only recently that I really took a hard look at whether I was an active person. I've run 27 marathons, but am I an active person?
Think I'm crazy yet? How can you run marathons and not be active?
This is how….
Do you finish a long run and then collapse on the couch all day and refuel with candy and frozen yogurt?
Do you drive around for 10 minutes in the Target parking lot waiting for a parking spot to open up right by the door?
Do you always take the elevator or escalator?
Do you tell yourself you deserve to sit around all day because you worked out earlier?
YES, being active by running is awesome. But it's not good for your health if it gives you the excuse to sit around and be less active in your every day life.
I have found a good way to keep track of whether you are active or accidentally lazy is by wearing a Fitbit or a Jawbone Up during the day, but not during your workouts. You want to track how active or inactive you are in your everyday life!
So while my doctor had it wrong in one sense, she had it right in another sense. I would go out and run too far, feel blah the rest of the day, and then pull the pregnancy card as to why it was okay to lie around and to eat whatever my heart desired.
When my husband called this morning to tell me I had left my keys in his car, my first thought was to panic. How will I get the kids to camp? How will I get around today? Getting upset wasn't going to fix the situation but remembering that I am an active person in my everyday life did make me feel better. I got out the running stroller and walked my older two children to camp. After we dropped them off, my youngest and I walked to Starbucks, then back towards home to get him a treat before our run. We ran 6 miles, came home for a recovery smoothie, walked back to camp to get my other children and all walked back home. Walking and running combined, I was active for 11 miles this morning.
I can finally say, I'm an all around active person and it feels REALLY good. I can't change my past lazy ways, but I can change my future.