Ridiculous Things Injured Runners Say
One or two of these statements may sound like a familiar complaint when you are injured.
Heading out the door? Read this article on the new Outside+ app available now on iOS devices for members! Download the app.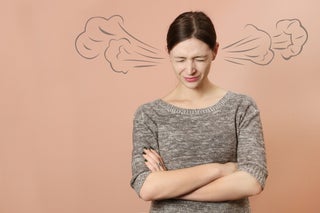 We get it, being injured and not being able to run is no fun. At Women's Running we write articles about it and share sage advice. But I discovered the hard way how writing about it and living it are two vastly different things. Two and a half months into being on the injured list (due to my own stubbornness), I finally see the road to recovery. I even enjoyed a doctor-prescribed five-minute run. It may have only been five minutes, but a run is a run! Clearance for 10 minutes of easy running resulted in near manic giddiness. Now comes the challenge of apologizing for the woe-is-me attitude I've had for the last ten weeks. In retrospect some of the statements I uttered were so ridiculous they were actually humorous—at least in retrospect. Who knows—maybe one or two of these gems sounds familiar to someone you know (or perhaps the reflection you see in the mirror).
Related: 5 Injury Prevention Strategies
"Are you sure running is the cause of ______ (insert classic running injury of choice)?"
If you say this after receiving a similar diagnosis for the second or third time, it's called "denial."
"Do you mean NO running whatsoever, or just no speed work?"
Specific instructions are critical because sidelined runners may not make the best judgement decisions when it comes to recovery.
"Wait, no running for HOW long?!"
My PT is a seasoned veteran—he had tissues at the ready when he delivered my no-running sentence.
"I love pool running. Really, why run when you can aqua jog?"
Editors note—it is a valuable cross training, and going with a friend makes it a LOT more fun.
Related: Cross-Training Options For Runners
"Sure, it's a beautiful day, but think of the money I'm saving on sunscreen by exercising inside. Vitamin D is so overrated anyway."
Vitamin D is not overrated, and the "sarcastic martyr" approach only succeeds in making you look as pitiful as you feel.
"I'm completely at peace with not running my goal race."
I really thought I was, I even wrote an article about it. Truth be told, I spent my race day in bed, eating junk food and watching the entire first season of "Bad Judge."
"I've lost my identity."
No, no you haven't. You're still a daughter/wife/mom/sister/aunt/friend/etc. And, if you think people are avoiding you, chances are (coming from personal experience) your attitude may be leaning slightly towards the grouchy end of the spectrum.
"Maybe I should forget about running and get a new hobby."
Hobbies are good. As is trying new things. But we all know runners tend to be more pleasant after a run!
"I'll be a model patient and coaching client for the rest of my days."
Empty promises and hyperbole won't help you heal any faster. But listening to those you ask to help is wise. You asked them for a reason, right?