One Benefit Of Eating Tomatoes You've Never Heard Of
They taste great, but there are other benefits you may not know about.
Heading out the door? Read this article on the new Outside+ app available now on iOS devices for members! Download the app.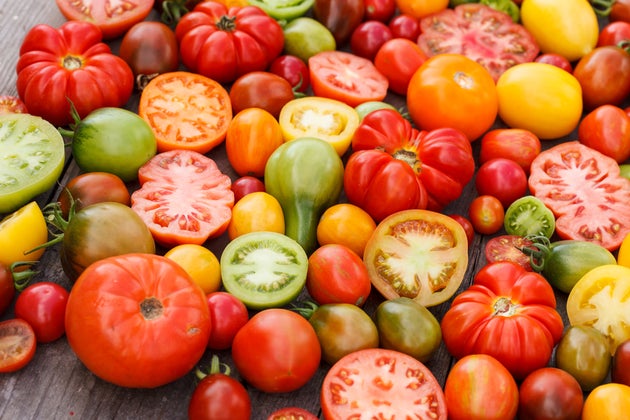 The secret to radiant, soft skin could be right in your kitchen.
Tomatoes are an excellent source of countless antioxidants and nutrients that have been shown to prevent many diseases while improving cardiovascular, prostate and vision health. What you might not realize is that tomatoes have an hidden secret to your beauty: lycopene, phytoene & phytofluene.
"These three molecules, part of the carotenoids family, are working much harder together than each one as a stand alone and demonstrate nature's "team work" at its very best. As a result of what is scientifically known to be the 'synergistic effect' a relatively small dosage of these three molecules can be beneficial for numerous positive wellness benefits," says Golan Raz, vice president of the Health Nutrition Division at Lycored.
Related: Try This Simple And Delicious Tomato Sauce
Raz explains that lycopene is absorbed in the skin's tissue and tackles UV radiation at a certain wave length. Since phytoene and phytofluene protect against UV waves at other lengths, a broader systemic protection can be achieved. That can result in multiple benefits all relevant to the longevity of the skin, or as some people call it: "anti-aging."
"Tomatoes are great when fresh, cooked or blended. No matter what is the intended use, we should always remember that without few drops of quality oil—olive, coconut—we skip some of the best parts of this amazing fruit," says Raz.
Besides tomato salad, juice or slices, you can benefit from all that they offer by simply applying it to the skin. Raz suggests you take two tablespoons of fresh tomato juice with few drops of olive oil to support the skin with a gentle facial treatment.
If you're not much of a DIY-er, you can purchase beauty products that contain elements of tomato. Look for nutrition supplements that contain lycopene, phytoene and phytofluene, such as Lyc-o-Derm, which has skin-grade tomato extract and carnosic acid.
Related: Ditch Sun-Damaged Skin With One Of These Treatments