Mile Posts: 10 Series To Keep You Entertained While Running On The Treadmill
These shows make the miles fly by while on the treadmill.
Heading out the door? Read this article on the new Outside+ app available now on iOS devices for members! Download the app.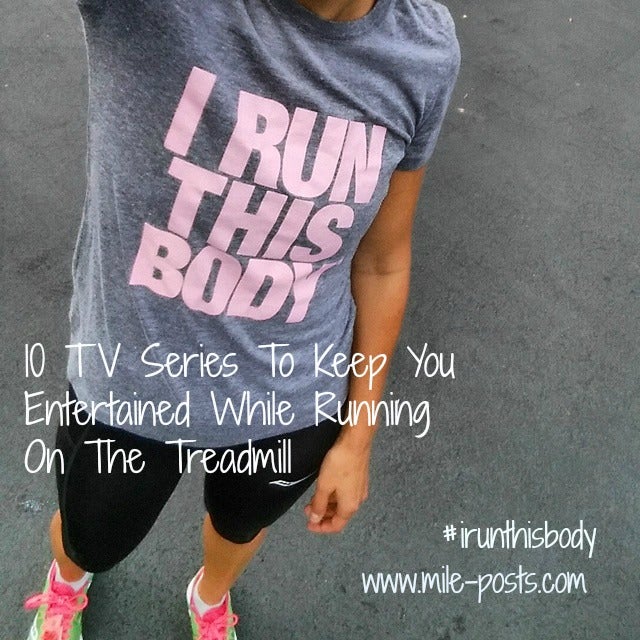 In the winter I do a lot of running on the treadmill. As a mother of three, whose husband leaves for work at o-dark-thirty, I don't have any other option most days. I have learned to appreciate my treadmill for what it allows me to do when I otherwise couldn't. I would venture to say that my Landice treadmill is one the best investments I've ever made in my health and well-being.
I NEED to watch something while I run on the hamster wheel.
Here are 10 TV Series that have kept me entertained during countless runs. These are all shows that kept me engaged enough that I wanted to keep running to see what happens during the next episode. Like my running shoes, I save these shows for when I run. When I wake up in the morning, I look forward to my treadmill run because I am excited for what I plan on watching.
Click on any show name for the full details.
Dexter: I credit this show to helping me to run 30 miles on a treadmill while training for a spring marathon one year.
Weeds: I still hum the theme song from this one. My husband could never get in to it. Maybe if I had watched it while not running, I might have felt the same, but it did the trick on the treadmill.
Orange Is The New Black: The acting in this show is amazing. Crime and comedy are my two treadmill must haves.
House of Cards: Streaming series are my favorite for treadmill runs because you can binge watch them. I also prefer when all episodes are already available or become available all at once. It's painful waiting a week for a new episode when you have 20 miles to run.
The Wire: I liked this Baltimore based crime drama so much that I've been considering adding it to my list of shows to re-watch while running.
Homeland: I've enjoyed watching Claire Danes since My So Called Life and I like her just as much in this series. This is a political thriller. Growing up in Virginia in a family who was involved with politics has made me a sucker for this type of show.
Ray Donovan: You may be noticing a trend, crime drama keeps me running, literally.
The Killing: This crime drama is a bit slower than some of the others I have suggested but it still did the job, especially for runs under an hour.
Luther: How can you not like a crime drama that has Idris Elba in it (also see The Wire). I'm not a huge James Bond girl but you can bet I will head to the theaters if he gets picked to be the next one.
Shameless: This show and family is a train wreck, and who doesn't like to watch a little drama from time to time.
I'm always on the hunt for new series. What are some of the ones you have enjoyed while running on the treadmill? Tweet @mileposts and @womensrunning.