#JourneyWithSteph: Question from a Fan
How does Steph keep motivated despite setbacks? Find out her answer.
Heading out the door? Read this article on the new Outside+ app available now on iOS devices for members! Download the app.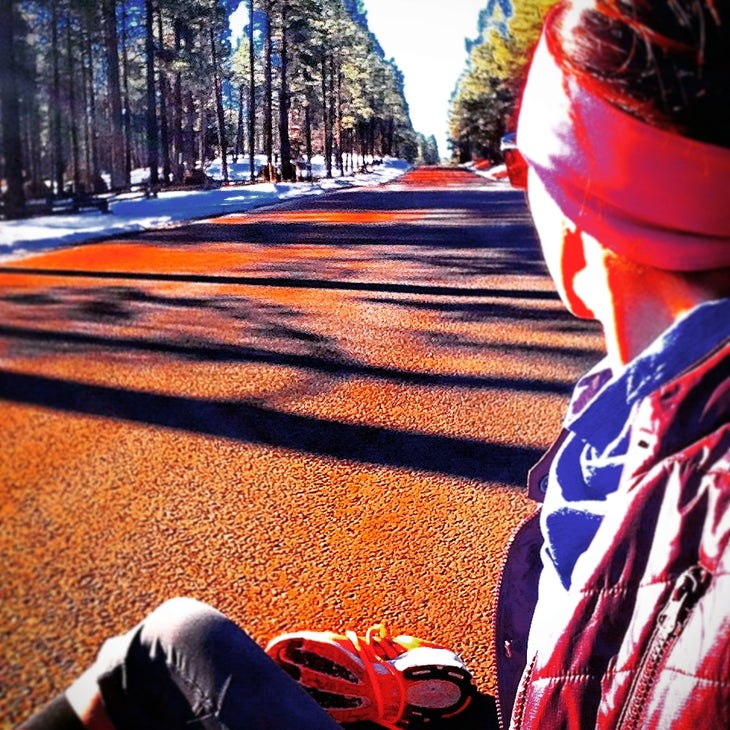 First off, thanks to all the tweeters and fans who submitted questions. I think this might be my favorite segment of my Women's Running blogs going forward. It was a very hard decision to choose one question—all of them were great. Hopefully you will keep submitting, and I'll eventually get to all of them. So lets get to it.
A question from @EHachmeister: How do you truly believe in yourself but still make room for falling short of what you believed?
Believing in yourself is one of the toughest battles we face as individuals—and as runners. Sure, you might believe you can break 2 hours in the half marathon, qualify for Boston, or, for me, make an Olympic Team, but when push comes to shove we sometimes stop believing. Injuries pop up throughout a training cycle and thwart our efforts to be that awesome version of ourselves we built up in our minds. I often think that when we are healthy we dream a little bigger and have confidence in what we think is possible. A poor race result then smacks us in the face with reality. "You're not as good as you think," whispers that evil voice in our head. So how do you keep believing? I don't have the running rule book for why you should believe in yourself—I just know from my experience.
I've been on a mission to make an Olympic Team ever since I ran 2:29 in the marathon. In the months leading up to the 2012 trials, I trained as best as I could and put all my eggs in one basket for the 26.2-mile battle in Houston. The race went out tactfully, and I didn't have an alternative race plan. So when a big move was made a few miles in, I timidly reacted and didn't go with the lead pack. My best place in the race was 8th around mile 15—and then the wheels fell off. They fell off hard. By mile 22, I was moving through quicksand, my hip was basically detached and it was time to stop. All my hopes, dreams and belief in myself vanished in that very moment, on the streets of Texas, as I dropped out of the only race I've ever quit. It would be easy to tell myself, You won't be an Olympian, you dropped out of this trials, and even if you stayed in, 8th place maybe would have been your best on that day. True statement, and that might be what you mutter to yourself when you fall short of a race goal, get hurt, or feel lost in your training. However the way I look at it is if I never believed I could have made that 2012 Olympic team, maybe I would have set myself up to race for 10th place and finish just off in 15th instead. Still pretty decent, but not what my heart is telling me.
I truly believe I will make an Olympic team in my career, and I'm gonna keep shooting for it even if debris is thrown in my way. Wouldn't you rather believe in yourself and fall short than not believe and not even put yourself in a position to achieve it? Our shortcomings define us more than our accomplishments. They motivate us to claw back in and strive for greatness once again. The room you make for yourself to fail should be a positive place where you learn from your mistakes and find ways to be better during the next opportunity. Just because you fail doesn't mean you are not what you believed you were. It means you had the courage to try and test that belief.