Hungry Runner Girl: 5 Favorite Books About Running
There's nothing like a great book, especially when the book is about running!
Heading out the door? Read this article on the new Outside+ app available now on iOS devices for members! Download the app.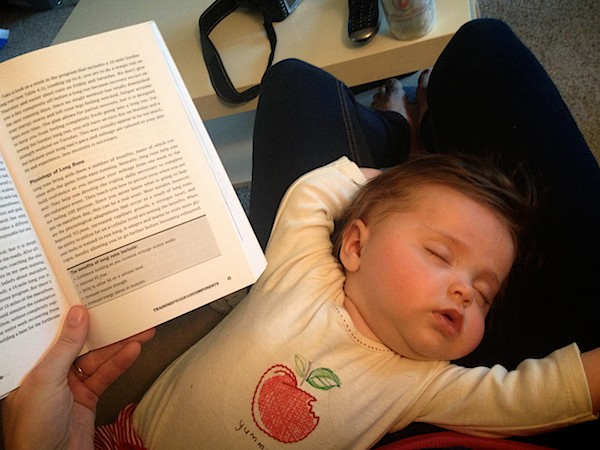 One of my favorite things to do during my daughter's nap is to pull out a book about running to read. I love learning about all of the different aspects of running, and finding new tips that can help me with my own training. These books also help me to feel more normal, because I realize that there are other people out there that are just as in love with running as I am. There is endless information out there about the best nutrition for runners, how to execute the long run, how to overcome the mental barriers during a race, injury prevention, how to get faster and much much more. There are so many amazing books about running, but I have narrowed my favorites down to 5!
Mile Markers: The 26.2 Most Important Reasons Why Women Run by Kristin Armstrong. This is my absolute favorite book about running. I have reread it many times because I love it so much. The way Kristin writes is beautiful. She is able to put exactly how I feel about running into words. I love how open she is about her life, feelings, and sharing how much running has done for her as she has gone through some extremely tough times. This book gets me even more excited than normal to lace up my running shoes and get out for a run.
Kara Goucher's Running for Women. I love this book because Kara is so easy to relate too, even though she is an elite. She is real about her experiences and the ups and downs that go along with running. Kara shares her amazing tips and lessons she has learned over the years about everything from finding balance with your running to dealing with injuries. I love that this book is so personalized to women and our nutrition, training, body and running through pregnancy.
Mind Gym: An Athlete's Guide to Inner Excellence by Gary Mack. This isn't just a book for runners but for all athletes. We put hours and hours into our physical training each week. This book helps to remind us to spend time and energy on our mental game too. They talk a lot about how much our thoughts influence our performance and how to train your mind to help you to reach your goals! My absolute favorite quotes that apply to running come from this book.
Born To Run by Christopher McDougall. The stories in this book are amazing. Trust me on this one. Chris studies why the Tarahumara Indians are able to run hundreds of miles without injuries and shares their techniques. This book reminds me about why I love to run so much, how our bodies were made to run, and how much happiness comes from it!
Hansons Marathon Method by Luke Humphrey. This book is such an incredible running resource. It has answered so many of my questions about training. It is written by the coaches of the Hansons-Brooks Distance Project. They share the training they have done with their athletes to get them to be the incredible runners that they are. This book has beginner and advanced training plans, as well as information about nutrition and hydration for runners! It really has helped me to understand the different types of runs that we should be doing each week and the benefits to each of them.
What are your favorite books about running? Tweet @hungryrunnergrl and @owmensrunning to let us know.