Hungry Runner Girl: Race Day Gear Checklist
With Boston only a week away, Janae made her race day checklist to ensure nothing is forgotten.
Heading out the door? Read this article on the new Outside+ app available now on iOS devices for members! Download the app.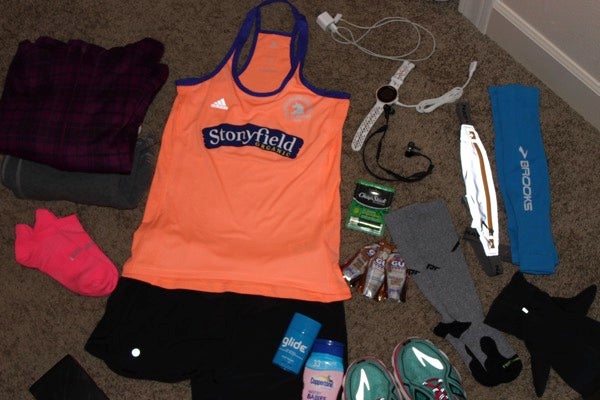 Boston is just a week away. In the last couple of weeks, I have had three dreams where I forgot something important for the race. In one of the dreams. I brought two left foot running shoes and didn't realize it until I was at the starting line, which made me just a tad bit stressed. I think my anxiety of not being prepared for the race is manifesting itself through my dreams. To help make sure that I get everything into my carry on suitcase before I take off, I created a checklist of my must-pack items for race day!
Running shoes— a brand new pair of my favorites with about 30 miles on them.
My Garmin 620.
A moisture-wicking sports bra
My jersey and shorts. No matter what the temperature is, I will be wearing shorts.
Arm sleeves
BodyGlide. I chafe a lot.
As many hair ties and bobby pins as possible. I hate having hair in my face while I run, so I make sure to pack plenty of these to avoid this problem.
A headband to double ensure that no hair touches my face while I run.
Three to four Gus— my fuel of choice for race day.
My waterproof Spibelt. This is a necessity to carry my phone, fuel and key during the race.
A tube of chapstick that also goes in my Spibelt. Chapped lips = torture in my opinion.
Sunscreen.
A trashbag or two to sit on the grass with while waiting for the race.
A killer playlist downloaded onto my iPod.
My Runner's Passport that is needed to get my bib for the marathon.
My sunglasses. I cannot run in the sunlight without them.
Extra safety pins.
Throw away gloves. I'll probably want them in the beginning and will toss them at some point along the course.
My favorite pair of Feetures running socks.
Clothes to wear before the race that I can toss.
ALL CHARGERS. My phone, headphones, iPod and GPS chargers are all ready to go in the suitcase. I kind of love electronics and need them to be fully charged on race day.
Compression socks, sweatpants, a sweatshirt, flip flops and a candy for the flight home right after the race. I'm going to look quite stylish in the airport.
Did I forget anything? What are some of your must-haves on race day?