Hungry Runner Girl: My Favorite Accessories
These accessories help Janae to run her best!
Heading out the door? Read this article on the new Outside+ app available now on iOS devices for members! Download the app.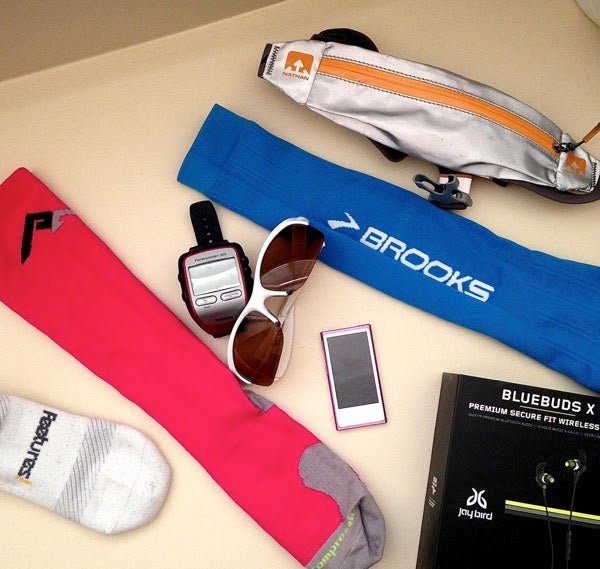 Janae shares some of the accessories that are essential to her runs!
Garmin 305. It is old school. I have tried at least 4 other GPS watches over the years but I always go back to my Garmin 305. It is reliable, accurate and I love how big the screen is. It makes it easy for me to glance down and see all of the details from my run. I also love that you are able to have four screens showing on the watch at a time. I usually have my distance, pace, average pace and overall time displayed as I run.
Jaybird BlueBuds. If you are a fan of listening to music as you run, then wireless headphones are the way to go in my opinion. I love not having to deal with headphone cords as I run. The sound on these headphones is awesome!
iPod Nano. The iPod goes along with the above headphones because they both have bluetooth. I have a plastic clip on my iPod that attach to my shorts, so I don't even notice that it is there. It is small and holds a lot of music for those days that you are out on a long run for a few hours
Nathan TorchLight Phantom Pak Belt. I just recently started wearing fuel belts during a marathon and I don't think I will ever go back to not using one. I love this particular one because it is extremely comfortable to wear, holds a lot in the pouch, doesn't bounce and is waterproof. I love that I can store my phone in the belt without worrying about ruining it from sweat or the cups of gatorade that I spill all over myself.
Oakley Commit Sunglasses. I do not like squinting while I run. So if the sun is out, then I have my sunglasses on. Finding a good pair that stay in place while I work out, have great UV protection, and doesn't fog up is important to me when I am out on the roads or trails.
Brooks Arm Warmers. These are perfect for those in-between runs when it is too cold to just wear a tank but not warm enough for a jacket or long sleeves. They are soft, comfortable and I love having the option of starting off a race with them. As it gets warmer out, I can easily slip them off for the rest of the race.
Feetures No Show Socks. I know these are my favorite because each time I fill up my sock drawer after doing laundry, these are the first to be worn. I have never had blister problems when I wear these. My feet just love them.
PRO Compression Marathon socks. I love throwing these socks on after a tough workout or long run. They help to speed up recovery by improving blood flow. They also come in a ton of different fun colors and are tight but not suffocating. I feel like I really do recover quicker when I wear these socks. Then I am ready to move forward with training and ready for the next tough workout.
What are some of your favorite running accessories? Tweet @hungryrunnergrl and @womensrunning to share.