Hungry Runner Girl: 5.5 Miles In Jeans and Flip Flops
Bonding on the roads with her sister helped Janae finish a marathon.
Heading out the door? Read this article on the new Outside+ app available now on iOS devices for members! Download the app.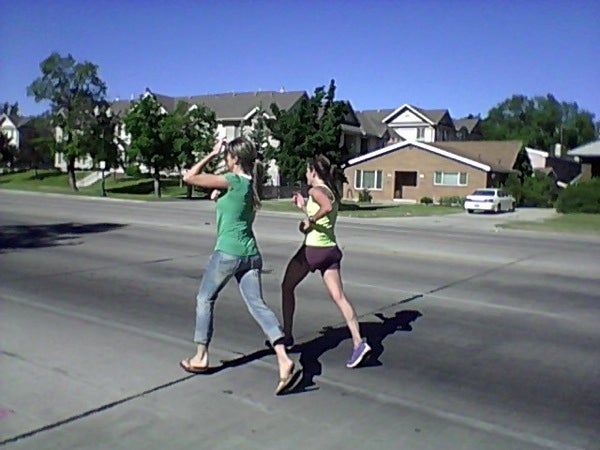 I first started running with my sister when I was 12 years old. My sister was running by herself at night. My mom had the brilliant idea of sending me out with her on her runs so that she wasn't alone. My lungs and legs both burned during those first few weeks of running, but I didn't care. I was out with my older sister and I thought I was pretty cool because of it.
It was during these runs that we first started to really talk about things. We had always been good friends, but I remember feeling especially close to her as we shared deeper (for a 12 year old at least) thoughts and feelings. I grew to love our 4 mile loop, and looked forward to our runs even in the snow and ice. We didn't have Garmins or fancy shoes. We definitely weren't training for any races. We did that 4 mile loop because we loved the way it made us feel and for our awesome conversations.
Fast forward through many years, pregnancies, and tough times of running together across different states. This last June we had the ultimate bonding experience while running.
I was running the Utah Valley Marathon and was undertrained for the race due to an injury. I had to take the 5 weeks off from running leading up to the race. I was finally healed and decided to do the race, but would drop out if my injury started to hurt again. I don't recommend running a marathon after taking 5 weeks off. It wasn't pretty.
The headwind from miles 12-20 nearly ate me alive. My legs were extremely tired. I had blood blisters that developed in the first few miles. Worst of all, I was emotional from saying goodbye to my little girl at mile 19 before she left to spend the weekend with her dad. When I saw my sister at a little bit before mile 21, I completely broke down. I stopped on the side of the road, told her I couldn't do it and started crying. I felt mentally and physically drained and wanted to give up.
She hugged me for a minute or two and then said, 'Let's do this.'
In jeans and flip flops, she ran by my side for the last 5.5 miles of my marathon to get me to the finish line. She talked about her favorite memories of our running adventures together. She gave me the best pep talk ever and stayed right by my side. It didn't matter to her that she was developing her own blisters from the flip flops. She wasn't going anywhere. We added another running adventure to our list.
I always find it interesting how much running with other people bonds me to them. Running just seems to bring out the best in us. We share, sympathize and celebrate on such deep levels while we are out running with other people.
Just another one of the thousands of reasons we run: for the relationships that are formed out on the roads.