How To Prevent Black Toenails (Or Hide Them With Nail Polish)
Learn how to prevent bruised toenails—and how to hide them with nail polish as they heal!
Heading out the door? Read this article on the new Outside+ app available now on iOS devices for members! Download the app.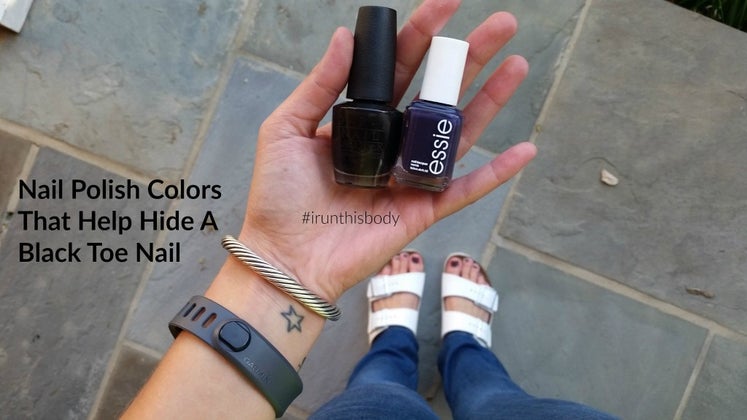 A bruised toe nail, otherwise known as a black toenail, can be a problem for runners of all distances.
The typical cause of a black toenail are running shoes that are too small. However unfortunately they can also happen during long distance events such as the marathon, when there is a repeated force on your toes for an extended period of time.
To prevent this from occurring you want to make sure you are purchasing the correct size running shoe. Your running shoes are going to be larger than your regular shoes. So if you are say an 8, you will likely be an 8.5 or a 9, depending on the brand, how large your feet typically swell during exercise, or even the time of year it is.
Claire Wood, Sr. Footwear Product Manager, Global Running, at New Balance explains it like this:
Bruised toe nails, and even toenail loss, is most often due to too much pressure on the front of our shoes as we run. While the shoes may not feel too small at try on and actually may feel perfect, the extra room, often a "thumbs nail length", is recommended to accommodate slight foot swelling or even simply what we refer to as "toe splay". With each step, we push off of our forefoot, and our toes spread, or "splay" as we say. This is why we engineer a forefoot area, that has mesh or overlay placement to accommodate this. At New Balance we hyper-focus on heel fit so that the collar area and materials hold the heel in snugly, as well as a nice midfoot wrap around the arch area. The key fit in these other areas are truly all working to allow the forefoot the important freedom it needs.  If our foot is even a little too close to the edge of the shoe, mile after mile, this will only become tighter, resulting in some toe nail damage. Worse than toe nail damage, if your shoes are way too small, you could risk injury to other areas due to compensation.
It's always wise to make sure one of the biggest shoe sizes in your house is your running shoes. I assure you that half size up will make your feet much happier and your pedicures more enjoyable.
Now that we know how to prevent this from happening here are some color tips and nail polish colors to cover up your black toenail in the meantime!
Tips for picking a color:
Stay away from reds, they will end up looking purple on the offending toe
Stay away from light colors
Spice up black by using a top coat with glitter
Deep purples, dark grey, and black work best
Here are six nail polish colors that are great for hiding that black toenail until it returns back to normal!
Read More About Foot Care:
The Foot Treatment An Ultrarunner Says Is Crucial
4 Products For Happy Runner Feet