9 Fun Race Day Nail Polish Ideas And Designs
Choosing the right nail polish can be just as important a race day tradition as wearing your favorite socks or lucky hair tie.
Heading out the door? Read this article on the new Outside+ app available now on iOS devices for members! Download the app.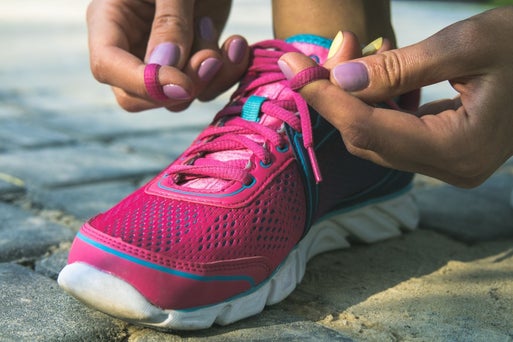 Race-Day Nail Polish
Race day is special. You spent week after week following a training plan, and no matter what your goal is for the race, it's an exciting day! Some runners might be superstitious about wearing a specific shirt for good luck or might choose to wear a specific outfit. Others might write race-day mantras on their hand with a permanent marker to read when the going gets tough.
Another popular way of celebrating the accomplishment is with race-day nails. Whether a runner matches their nails to the race theme or uses colors or patterns for inspiration, a special coat of polish in honor of a big race can be a fun tradition. Nine runners shared their race day nails with us and explained why their choices kept them motivated along their routes.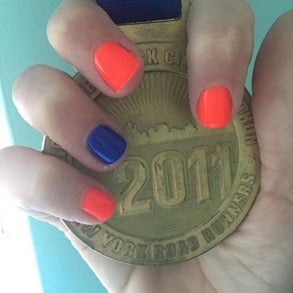 "In 2015, I painted my nails orange and blue, the New York City Marathon colors. I'm not going to lie, I'm a pretty girly girl (hi, I run in a skirt), so I loved looking down at my hands during the race to see this bit of happiness when things got tough." —Theodora Blanchfield of Preppy Runner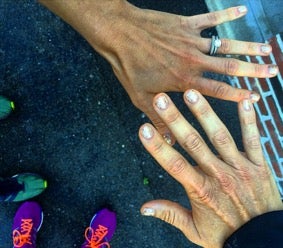 "I used to be really superstitious about only wearing red OR hot pink for races…but then I branched out a few years ago and had success with a color that wasn't hot pink. Ever since, I switch it up, according to mood or season. But getting a race day manicure is a must; even my husband stopped giving me a hard time about it!" —Mary Johnson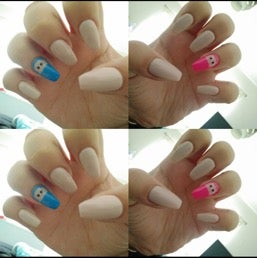 "I'm a nail technician and this mani was created for the 2016 Great North Run. My running group is called 'Running Ninjas' and their colors are pink and blue, so it was only right to create pink and blue ninjas on my accent nails. The race was the hardest thing I've ever done, mentally and physically, but I did it and I have the bling to prove it!" —Kay Gilligan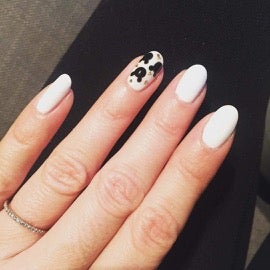 "Getting a manicure before the Disney marathon helps me get into the spirit of the race. A little extra bling on my fingers reminds me there's magic inside of me waiting to be unleashed on race day!" —Marianna Biribin-Viel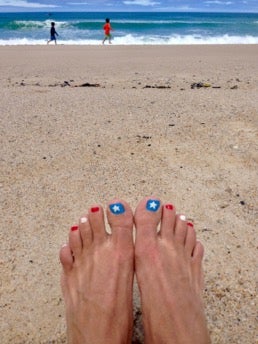 "I was getting a pedicure before my big trip at a place I have been going to for years. All the women there were so excited for me and decided I needed an appropriate 'Team USA' design. I absolutely loved it because it also felt a little like Wonder Woman, who I obviously channeled to finish the race strong!" —Allie Burdick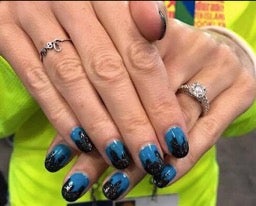 "The city is the heart of the TCS New York City Marathon and I always felt like my nails had to represent it. Your hands are one of the things you'll see over and over during the race, and having the city right there with me (and everyone that that represents to me) always make me feel stronger and ready to tackle the distance."—Elizabeth Maiuolo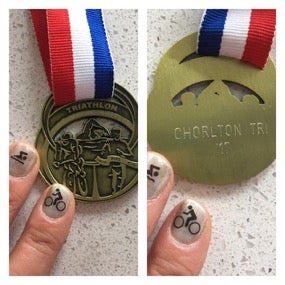 "This was my first triathlon ever; usually, I am a swimmer. It was a small local triathlon in Chorlton Manchester. 750-meter open water swim, 15-kilometer mountain bike and 5k run. I loved it!" —Emma Willert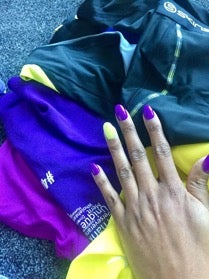 "Every race outfit is made completed with matching nails." —Loveness Scott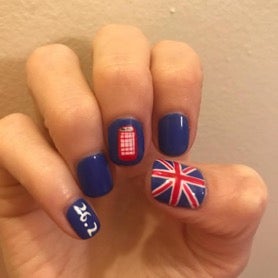 "After my mom passed away from cancer I decided to run my first marathon in NYC to honor her and raise money with the American Cancer Society. I'm now in the process of running all six majors. In 25 years I never saw my mother not have a perfectly manicured hand–getting a marathon manicure for each city allows me to look down at my hands around miles 18 to 26 when it really gets tough and remember my mom and the reason I run." –Kim Riordan
Do you have any fun race day traditions? Share them with us at @womensrunning and @racepacejess!