Attention Health And Wellness Gurus—FounderMade Wants You!
Hey, maybe that's you?
Heading out the door? Read this article on the new Outside+ app available now on iOS devices for members! Download the app.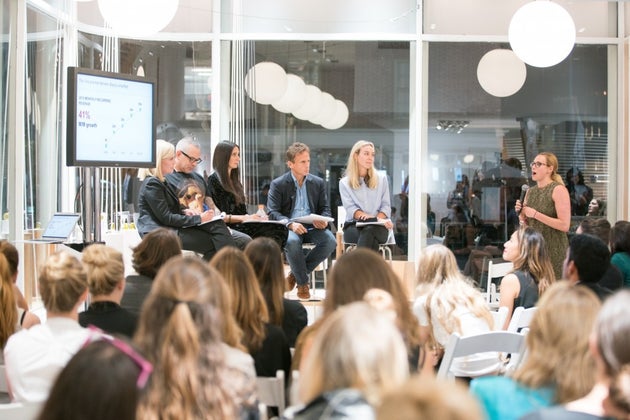 Submissions are now open for the FounderMade Future of Wellness Challenge, which will culminate with the Foundermade Wellness: Creating the Halo Effect by Integrity Square hosted in Los Angeles on October 23. The deadline for entry is Wednesday, October 5 at 11:59 p.m. EST. To enter, go here.
If you have an up-and-coming company in the health and wellness space that's ready to make it big, FounderMade and Women's Running want to hear from you. FounderMade is a platform that connects with burgeoning businesses, offering the support, mentorship and investment needed to become the next big star in the healthy lifestyle space. This year, Women's Running is partnering with the platform to support those companies in their quest to wow the crowd with fresh ideas about healthy living. Who doesn't want to see cool new products taking over the fitness space? Who doesn't want to be part of a business's journey from day 1? Hint: Everybody wants in on that, and whether or not you have a start-up of your own, you'll be able to follow along in the fun.
What Is The FounderMade Challenge?
The FounderMade Future of Wellness Challenge seeks brands focused on fitness, health and wellness—aka hello, runners! To qualify, you must have a pre-existing business that you love to brag about. Submissions will only be considered for established brands, not just ideas. (If you have a great concept swirling in your brain and your heart, push forward and get ready for 2017!)
All brands are welcome to apply to the challenge. Submissions close on Oct. 5, and semifinalists will be announced on Monday, Oct. 10. Women's Running readers will have the opportunity to vote for the company they want to see win when the top-3 finalists are invited to pitch their brands at Foundermade Wellness on Oct. 23 in front of hundreds of entrepreneurs, investors and influencers in the health and wellness industry.
Who Are The Past Winners?
Past finalists have included ConBody, the prison-style workout company with a social mission to create job opportunities for former inmates; The Goodwell Company, which makes biodegradable toothbrushes(!) delivered to your doorstep; and Props Athletics, creators of the unisex fitness glove (looking at you, Marlen!).
If you or someone you know has a business that's ripe for the pitching, enter now, or follow along as we introduce the most interesting new brands that could completely transform the running and fitness industry and inevitable take over your Instagram #fitspo feeds within the next few years.