Three Breakfast Recipes for On-the-Go Fueling
You'll be glad you took the time to add these vegetarian recipes to your meal-prep rotation.
Heading out the door? Read this article on the new Outside+ app available now on iOS devices for members! Download the app.
Whether you're an early morning runner or prefer to squeeze your miles in between other parts of your day, having a highly nutritious snack or small meal prepped ahead of time can help you get out for your workout with one less thing to think about—and fuel properly before or after.
The following recipes, from nutrition coach Lottie Bildrici's just-released cookbook Running on Veggies, are all make-ahead and all made-for-runners, with plant-based ingredients to help power you to longer (or faster) runs.
Baked Pumpkin Quinoa with Apples and Figs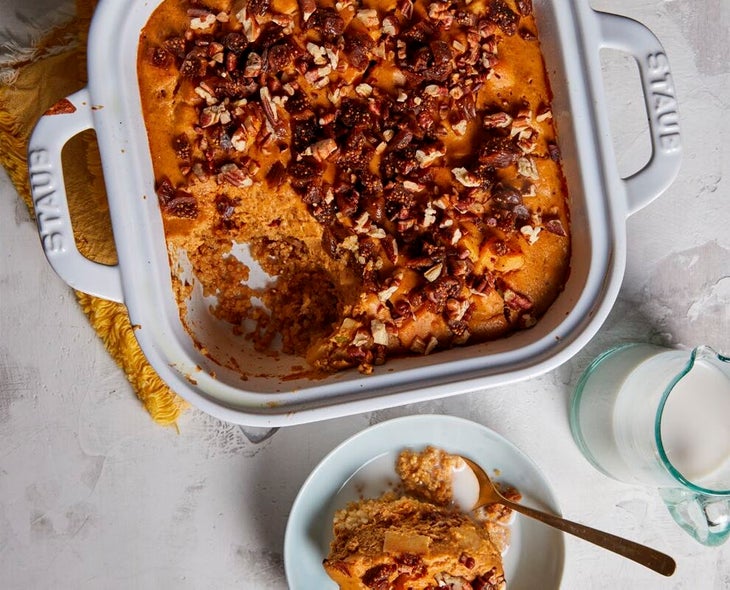 PREP TIME// 10 minutes
COOK TIME// 50 minutes
SERVES// 4 to 6
This is my ultimate breakfast recipe for the fall, and it's perfect for sharing as a brunch or making as a meal-prep breakfast for the whole week. The pumpkin puree adds a natural sweetness and creamy texture to the protein-packed nutty quinoa. This elevated morning bake also makes your home smell amazing!
RELATED: Over Half of Ultrarunners Get Nauseous During Races. Here's Why
Ingredients
2 teaspoons coconut oil, for greasing
2 small tart red apples, such as Honeycrisp, peeled and diced small
1 lemon, juiced
1 (15-ounce) can unsweetened pumpkin puree
2 large eggs, beaten
2 cups unsweetened nut milk
1 teaspoon ground cinnamon
¼ teaspoon ground nutmeg
¼ teaspoon ground cloves
Pinch of sea salt
1 cup quinoa, rinsed
⅓ cup dried Turkish figs, chopped, plus additional chopped to garnish
½ cup toasted pecans, chopped, to garnish
Directions
Preheat the oven to 350°F. Lightly grease a 9 × 9-inch baking dish with the coconut oil.
In a small bowl, toss the apples in the lemon juice and set aside. In a large bowl, whisk together the pumpkin puree, eggs, nut milk, cinnamon, nutmeg, cloves, and salt. Fold the apples into the mixture.
Place the rinsed quinoa in the bottom of the prepared baking dish and sprinkle with the chopped figs. Top with the pumpkin puree mixture. Bake for 45 to 50 minutes, or until the top is set. Remove from the oven and allow to cool for 10 minutes. Garnish with additional chopped figs and toasted pecans.
SERVING TIP: I sometimes like to serve this quinoa with warm nut milk on the side to pour over once served in bowls.
Fig and Oat Bars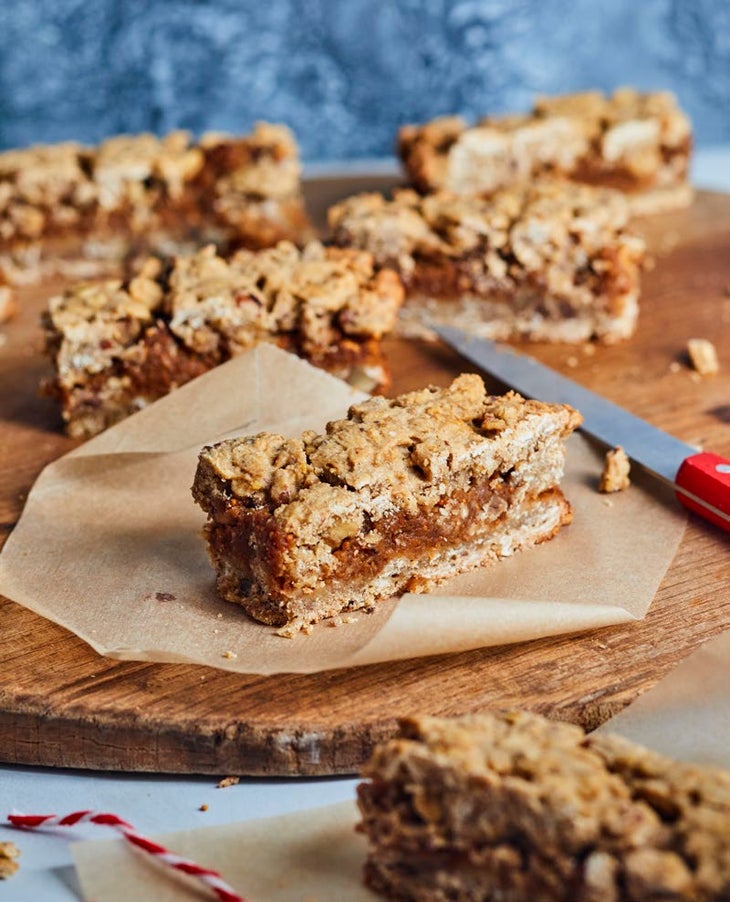 PREP TIME// 20 minutes + 15 minutes soaking + overnight refrigeration
COOK TIME// 50 minutes
MAKES// 15 bars
These bars are inspired by a classic Fig Newton and adapted for the trail. The oats and pecans make a sturdy granola bar base that holds the jammy orange and fig center. These bars are also a great mid-afternoon treat with a coffee since they aren't too sweet and will keep you full until dinner.
Ingredients
Coconut oil, for greasing
Filling:
2 cups dried Turkish figs, halved
Hot water (115°F to 120°F), to cover figs
1 orange, zested
2 to 3 tablespoons fresh orange juice
¼ teaspoon sea salt
Dough:
2½ cups oat flour
2½ cups old-fashioned rolled oats
⅔ cup raw pecans, chopped
1 teaspoon ground cinnamon
1 tablespoon ground flaxseed
½ teaspoon sea salt
½ cup pure maple syrup
½ cup coconut oil, melted
3 large eggs, lightly beaten
½ cup unsweetened nut milk
1 teaspoon vanilla extract
Directions
Preheat the oven to 350°F. Grease an 11 × 7-inch baking dish with coconut oil and line with parchment paper, letting some overhang on the sides as handles.
For the Filling: In a small heatproof bowl, cover the figs with hot water and allow to soak for 15 minutes to soften. Drain the figs, reserving the liquid.
Transfer the figs to the bowl of a food processor fitted with the blade attachment. Add the orange zest, orange juice, and salt and puree until smooth. If the mixture is too thick, add some of the reserved soaking liquid, a tablespoon at a time, until a jam consistency forms. Set aside.
For the Dough: In a large bowl, whisk together the flour, oats, pecans, cinnamon, flaxseed, and salt.
In a medium bowl, combine the maple syrup, coconut oil, eggs, nut milk, and vanilla. Make a well in the dry ingredients and pour the wet ingredients inside. Mix gently until just combined.
Press half the dough into the bottom of the prepared baking dish. Spread the fig mixture on top. Crumble the remaining dough on top of the fig mixture and press down gently.
Bake for 40 to 50 minutes on the middle rack, until lightly browned. Allow to cool completely in the pan. Cover the bars and refrigerate overnight to allow the filling to set. Slice into 15 small bars and store in an airtight container in the refrigerator for up to 3 days.
TIP: Use your favorite dried fruit and nuts in this recipe. Dates also work really well!
RELATED: We Tried It: Smoothie Bowls, Real Food Gels, and Recovery Fuel
Peanut Butter Compost Cookies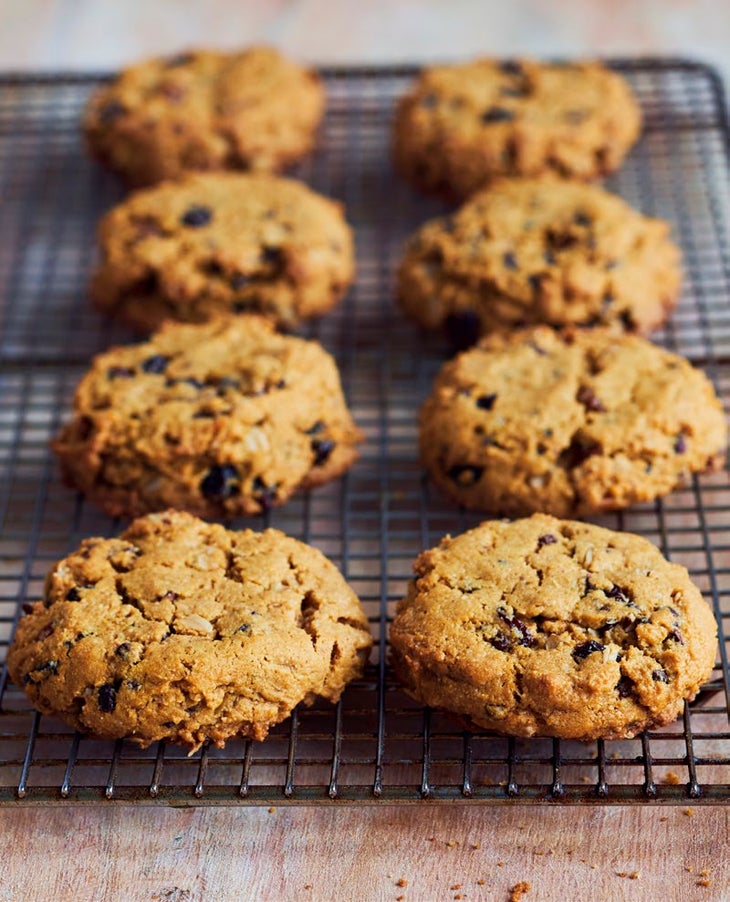 PREP TIME// 15 minutes
COOK TIME// 12 minutes
MAKES// 16 cookies
These cookies hold up really well during a long bike ride, aren't too sweet to eat in the middle of a workout, and are also a great anytime dessert! I use maple syrup as a natural sweetener for several of my desserts and adventure snacks in addition to dates or fruit. Maple syrup has some minerals and antioxidants, like manganese, as well as a slightly lower glycemic index than regular sugar. Be sure you are buying pure maple syrup when you go to the store and not artificially sweetened maple-flavored syrup.
Ingredients
1 cup unsweetened natural creamy peanut butter
½ cup pure maple syrup
¼ cup coconut oil, melted
2 large eggs, at room temperature, lightly beaten
2 teaspoons vanilla extract
1 teaspoon sea salt
1½ cups almond flour
1 teaspoon baking soda
1 teaspoon baking powder
1 cup old-fashioned rolled oats
½ cup cacao nibs
½ cup dried raisins
½ cup pecans, chopped
Directions
Preheat the oven to 350°F. Line two baking sheets with parchment paper.
In a large bowl, stir together the peanut butter, maple syrup, and coconut oil until smooth. Add the eggs, one at a time, and mix until just incorporated. Stir in the vanilla and salt.
In a medium bowl, whisk together the salt, flour, baking soda, and baking powder. Fold the dry ingredients into the nut butter mixture and add the oats, cacao nibs, raisins, and pecans.
Using a ¼-cup measure, scoop the cookie dough onto the prepared baking sheets. Press lightly with your fingers to flatten the top of the cookies. Bake for 10 to 12 minutes, until golden and just set. Allow to cool on the pan completely and serve.
TIP: Use any dried fruit or nut butter you desire in this recipe.
RELATED: Use Up Leftovers in a Protein-Packed Breakfast Frittata
---
Recipes from RUNNING ON VEGGIES. Copyright ©2022 by Lottie Julia Bildirici. Photographs copyright © 2021 by Lauren Volo. Published by Rodale Books, an imprint of Penguin Random House.