7 Burger Recipes You Need To Follow This Summer
While the traditional beef burger is still the favorite of many, there are so many other burger options to try.
Heading out the door? Read this article on the new Outside+ app available now on iOS devices for members! Download the app.
Summer's Best Burgers
Although burgers are an all-American wonder food all year round, biting into a flavorful and juicy burger at a backyard BBQ is one those quintessential summer moments. While the traditional beef burger is still the favorite of many, there are so many other burger options to try. From different types of meats (or non-meats) to different seasonings and cultural influences, these burger recipes will provide enough variety for many weeks to come.
Related: Tips To Make Your Summer Grilling Go Smoothly
Grilled Barbecue Bison Burger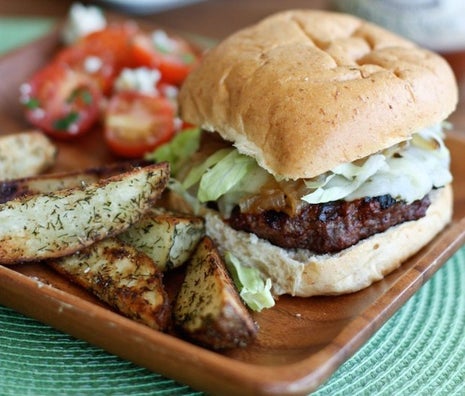 Bison has less saturated fat than beef and is picking up steam as the healthier red meat. A three-ounce serving of this lean meat has about 150 calories and seven grams of fat, half of which are the "good" kind. And just like beef, bison provides tons of B12 and iron. This delicious version is topped with BBQ sauce, pepper jack cheese and caramelized onions. No need to go to the steak house tonight!
Jalapeño and Cheddar Stuffed Salsa Verde Burger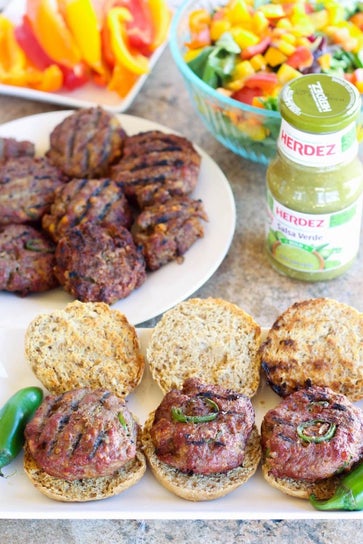 I don't know about you, but I like to combine my traditional American foods with some cultural flare. This Mexican-inspired Jalapeño Cheddar Salsa Burger contains melty cheese and a hint of firey salsa. Stuffing these burger with so many fresh flavors ensures that this lean meat will be moist and juicy with every bite.
Chili Cheese Black Bean Burger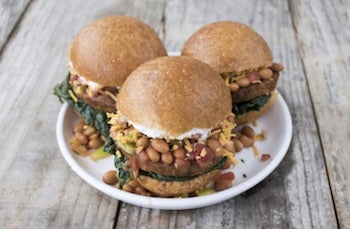 Surprise! This chili cheeseburger is healthy! If you don't believe me, just listen. It's made with Dr. Praeger's Black Bean Quinoa Burgers as the base, spiced up with a flavorful tomato, onion and bean mixture and topped off with cheese, Greek yogurt and spinach. If that's not enough, one burger has five grams of protein and just 140 calories. So if you just came back from a long run, you can definitely enjoy two of these bad boys!
Ginger Miso Turkey Burgers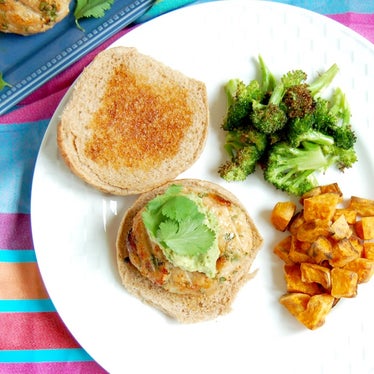 If you're craving a burger but want something a little lighter than red meat, turkey is where it's at. These Asian inspired burgers take only 10 minutes to prep, 10 minutes to cook and have just five ingredients. If you bought a big tube of miso and aren't sure what to do with it, make a big batch of these and freeze them for later in the month.
Greek Lamb Burgers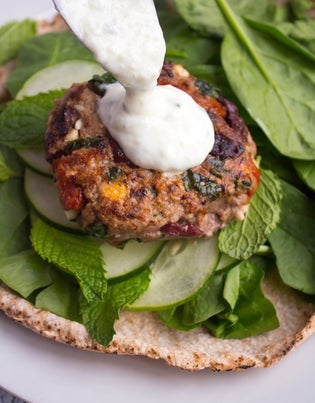 Not only are we switching up the meat in this burger, but there are some delicious additions mixed right into the patty. With chopped spinach, olives, feta and sundried tomatoes added to the ground meat, these burgers have a delicious Mediterranean flavor with lots of added nutrients. Don't miss out on the cucumber yogurt sauce that evens out the fattiness of the meat!
Sesame Salmon Burger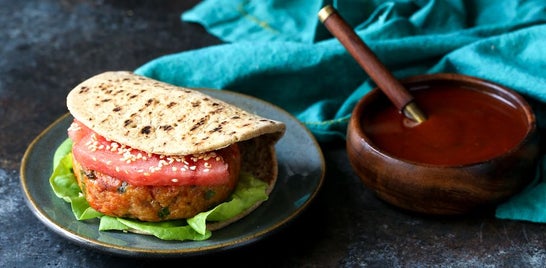 "This Sesame Salmon Burger is the perfect fuel to replenish, repair and reboot after those long runs," Elizabeth Ann Shaw, MS, RDN, CLT said. "Salmon is a great source of heart healthy omega-3s as well as protein, coming in at approximately 22 grams per three-ounce portion. By wrapping that 'burger' up in a whole grain flatbread, you'll not only boost your B vitamin intake (and add an additional seven to nine grams of protein) but add fiber, as well. Remember, fiber keeps you fuller for longer, so go ahead and rest easy knowing you'll keep your hunger at bay!"
Avocado Chicken Burgers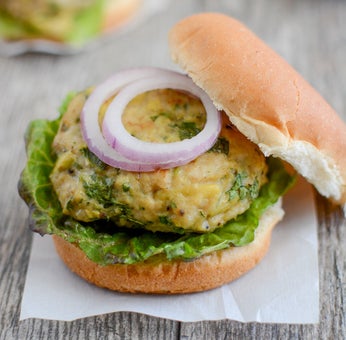 No, these lean burgers aren't topped with avocado. The delicious creamy green fruit is added right into the ground chicken to give a luscious and juicy flavor to the burger. Talk about the perfect post-run burger with protein and healthy fats!
Related:
This Watermelon Gazpacho Recipe Is Summer's Favorite Soup
No Meat? No Problem! This Black Bean Burger Is Barbecue Ready