7 Sheet Pan Dinner Recipes For The Busy Runner
These seven sheet pan recipes offer dinner alternatives for runners that prefer to train at night.
Heading out the door? Read this article on the new Outside+ app available now on iOS devices for members! Download the app.
As much as I've always wanted to be a morning runner, I just can't seem to drag myself out of bed at 6 a.m. I really envy those that do–but for me, the 6 p.m. run is much more doable. The only problem with running in the evening is that it cuts into dinnertime. And, being a dietitian who constantly thinks about food, I get ornery when dinner is pushed back. That's why I love the premise of a sheet pan dinner. Cooking everything on one pan in roughly the amount of time that it takes me to stretch and shower after a run is a win-win. These bloggers are helping out all the nighttime runners by sharing healthy sheet pan recipes that can be made any night of the week.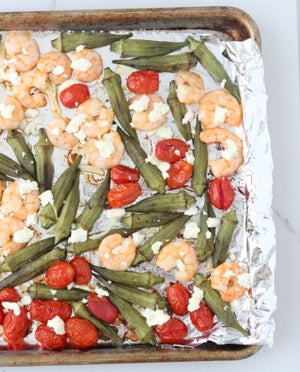 Being a New Yorker, I've only had okra a handful of times. But as an avid watcher of cooking shows, I've always been intrigued by the ingredient. This sheet pan meal brings together shrimp, okra and tomatoes for a little southern flare.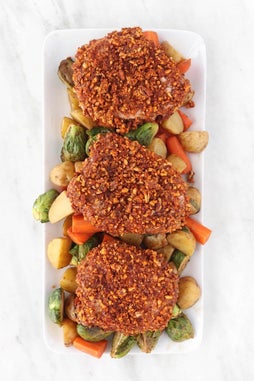 Doesn't the name of this dinner just sound divine? The crunchy pecan crust and the sweetness of the honey balsamic roasted veggies go together so well that you won't believe this is all made on one pan.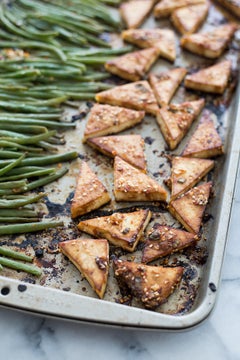 There aren't very many sheet pan dinners for vegetarians, but this recipe breaks the mold. By marinating and baking the tofu, it comes out a bit more crunchy than soft. Plus, tofu is a great source of affordable protein for a family of four.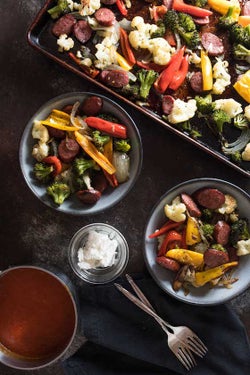 Some days call for a meat-free dinner, while others scream for sausage. This single-pan dinner takes things up a notch with savory marinara sauce and creamy goat cheese, all atop sausage and roasted veggies.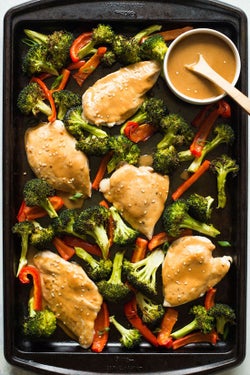 Although we like to pretend that we are cooking for ourselves, the moms out there will tell you that they're really choosing meals for their kids. This simple sheet pan meal will go over well with anyone in the household. Topped with a flavorful peanut sauce, this chicken and veggie dish is simple and sure to please a crowd.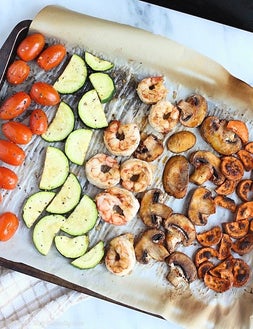 Love shrimp but not sure how to cook it? This sheet pan dinner has you covered. Mix and match any veggies you like for a dinner that's ready in 20 minutes!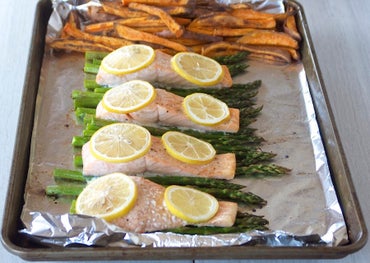 The dietary guidelines recommend eating at least eight ounces or two servings of fish per week. Yet a recent survey found that most Americans only eat about one-third of those recommendations. Make fish part of your regular diet with this sheet pan of salmon and vegetables.