Race Fueling Tips For Distances From 5Ks To Marathons
A board-certified sports nutritionist offers her fueling tips for runners preparing to race distances from 5Ks to full marathons.
Photo: Sanford Myers Photography LLC
Heading out the door? Read this article on the new Outside+ app available now on iOS devices for members! Download the app.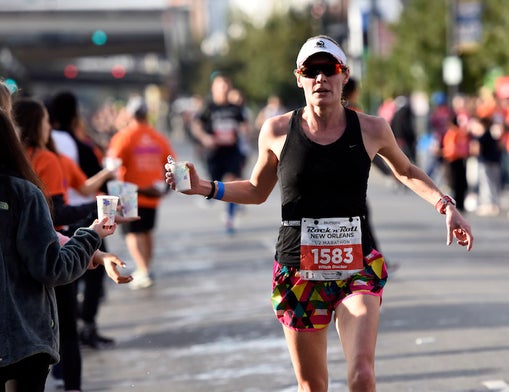 Many of us have pre-race rituals that we have followed for years, and we stick to them no matter the weather, distance or location. While some rituals are great (hydrating before a race is always important, and lucky socks can never be wrong!), some rituals should be adjusted according to your race distance. Nutrition and hydration are two such rituals! Of course it is important to toe every starting line well hydrated and with glycogen stores and blood glucose topped off, but how much and what you'll need on race day will vary. Here are some easy-to-follow fueling guidelines from 5K to marathon.
5K
Race-day breakfast should be high-carb, low-fiber and very easy to digest. Aim for about 200 calories of simple carbs 1–2 hours before your race. Try 1 cup low-fiber cereal (think Cheerios, Rice Krispies and the like) plus almond milk (many runners have trouble digesting cow's milk pre-race) plus half a banana.
Hydrate with 8–12 ounces water 60–90 minutes before the race start.
Final fuel for a 5K is not generally necessary. However, if you race longer distances and want a final boost, take ½–1 gel or a few crackers 10 minutes before the gun goes off.
During-race fuel is generally unnecessary. You won't want to spend time visiting aid stations and will barely be able to sip if you try. When it's really hot or humid, grab one cup of fluid 1–2 miles in as needed. Your best bet is to hydrate before you take off!
10K
Race-day breakfast increases to 250–350 calories, eaten 2–3 hours pre-race. Try 1–2 packets of instant oatmeal (it can be flavored—you need the carbs for energy to race) plus a choice of cow, soy or almond milk and one banana.
Hydrate with 12–16 ounces water 2–3 hours before start time.
Final fuel: Experiment with 4–8 ounces sports drink 10 minutes before the start.
During-race fuel: If racing for more than 60 minutes, consume 100 calories (of sports drink/gel) after 45 minutes. When it's hot or humid, drink 4–6 ounces of fluid every 2 miles.
Half Marathon
Race-day breakfast increases to 400–500 calories, and should now include protein due to the longer duration of the race. Try half a bagel with peanut butter and jelly plus a banana 2–4 hours prior to the start.
Hydrate with 12–16 ounces water or sports drink 3–4 hours pre-race. Note: It's okay to omit the banana if you're choosing a sports drink because those carbs/calories count too.
Final fuel: 6–8 ounces sports drink, or one gel plus 6 ounces of water 10 minutes before.
During-race fuel: 30–60 grams of carbohydrate per hour after the first hour. For example, 1 gel or 16 ounces sports drink (4 ounces every few miles) for a half marathon less than 2 hours, or 1 gel plus 16 ounces sports drink for a 2:30 half. Total fluids should match sweat rate, averaging 24–32 ounces per hour.
Full Marathon
Race-day breakfast should now be in two parts, totaling 600–700 calories and including carbs and protein or fat. Four hours prior to the race, eat a whole bagel with either PB&J or two eggs. Then 1.5 hours prior, eat oatmeal or a granola/energy bar.
Hydrate with 12–16 ounces fluid 3–4 hours prior, then another 7–12 ounces 1.5 hours prior.
Final fuel: Take one gel with 4–8 ounces water or 8 ounces of sports drink or about 100 calories of any fast-
acting carbs.
During-race fuel: Up to 60–90 grams of carbs per hour! Experiment during long runs to find your "sweet spot" of fueling. Examples are 4–6 ounces of sports drink every 2 miles plus gel with water every 40 minutes (4–5 miles). Try adding 1–2 energy chews every other mile as well.
Lauren Antonucci, M.S., R.D.N., C.S.S.D., is a board-certified sports dietitian and the owner/director of Nutrition Energy in NYC. She has fueled thousands of marathoners and fueled herself to more than 12 marathon finishes.
Related:
Race-Day And Post-Race Fueling Tips From Nutrition Experts
How To Fuel For 26.2 With Dietary Restrictions