Lentil, Tomato And Olive Baked Cod Recipe
This is basically a one-dish meal—every ingredient you need can be tended in just one pan.
Heading out the door? Read this article on the new Outside+ app available now on iOS devices for members! Download the app.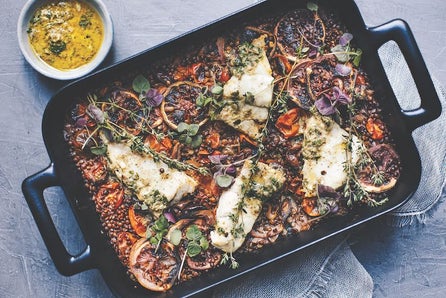 From More with Less: Whole Food 
Cooking Made Irresistibly Simple by Jodi Moreno © 2018. Photo and recipe reprinted in arrangement with Roost Books, an imprint of Shambhala Publications.
In the new cookbook More with Less, you'll find more than 130 whole-food recipes, including this one, which each require a maximum of 10 ingredients. It is always great to have a couple of impressive dinner dishes that you can throw together for a party or to feed a crowd without having to do a lot of dishes. This baked fish recipe is perfect for an impromptu gathering. It's basically a one-dish meal—everything (including cooking the lentils) is done in one pan. You can switch up the cod for whatever fish is local and in season, keeping in mind the cooking time might change depending on the thickness of the fish, so check the fish accordingly while cooking.
Lentil, Tomato And Olive Baked Cod With Lemon Caper Vinaigrette
Serves 6
Ingredients
½ cup black lentils
1 pint cherry tomatoes, halved
½ cup Kalamata olives, halved
3 scallions, white and light green parts only, thinly sliced
1 lemon, thinly sliced
1½ cups vegetable broth or water
Four to six 6-oz. fillets cod (or other thick white fish), skin removed
Sea salt
Freshly ground black pepper
Lemon Caper Vinaigrette (recipe below) for serving
Preparation
Preheat the oven to 400 degrees. Put the lentils, tomatoes, olives, scallions and lemon into a 9×9-inch baking dish, and pour the vegetable broth over the top, making sure the lentils are submerged. Bake for 30 minutes, or until the lentils are cooked al dente and the tomatoes are tender. Remove the dish from the oven.
Pat the fish dry with a paper towel, season with salt and pepper and add the fillets to the dish so they fit snuggly among the lentils and veggies. Roast for 10–12 minutes, until the fish is cooked through and opaque. Serve immediately with a drizzle of the Lemon Caper Vinaigrette over the fillets.
Lemon Caper Vinaigrette
Ingredients
1 Tbsp rinsed capers, minced
1 Tbsp minced shallots
1 clove garlic, minced
½ tsp Dijon mustard
½ tsp whole-grain mustard
Juice of 1 lemon (about 2 Tbsp)
1 Tbsp chopped parsley
Sea salt
Freshly ground black pepper
¼ cup extra virgin olive oil
Preparation
Put the capers, shallots, garlic, mustards, lemon juice, parsley, pinch or two of salt and the pepper in a small mixing bowl, and whisk in the olive oil in a slow stream. Let sit for 30 minutes before serving to allow the flavors to develop. This will keep for about one week in an airtight container in the fridge.
Related:
5 Easy-To-Make Recipes The Whole Family Will Love
This Salmon Recipe Is One Of Kara Goucher's Favorites